The Palestra
Introduction
The Palestra, the Cathedral of College Basketball, or the birthplace for college basketball are all in the same. They are all names of the biggest college basketball arena built in 1927, and hosting more games, more visiting games and NCAA Tournaments. It also is the first arena that was constructed out of steel and cement with no support beams in the way of the view.
Images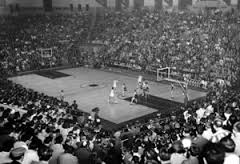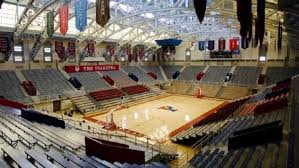 Backstory and Context
The Palestra, or the Cathedral of College Basketball is home to the University of Pennsylvania's Quakers basketball, volleyball, and wrestling teams. The arena was also know for being the birthplace for college basketball and "has hosted more games, more visiting teams, and more NCAA Tournaments than any other facility in college basketball". (Wikipedia, 2015)
The Palestra was the biggest arena in the world when it was built and opened on January 1, 1927. It was also the first arena constructed of steel and concrete without any bracing to interfere with the view where you were seating. The arena originally seated 10,000 people with the main attraction being that you could seat so close to the floor with no wall or anything to separate the players and the fans.
The Palestra is still operational and was renovated in 2000. The renovation included a museum for the Philadelphia's basketball history. It also made other changes like the mascot near the front entrance and the ramp to the scoreboard showing the rivalry with Princeton dating from the 1950's.
Sources
Wikipedia. (2015, 03 19). Palestra. Retrieved from wikipedia: http://en.wikipedia.org/wiki/Palestra
Additional Information