Lincoln Branch Library (Duluth Art Institute-West End)
Introduction
The Lincoln Branch Library, now a owned by the Duluth Art Institute, opened in 1917 and was one of the more than two thousand Carnegie Libraries around the world built between 1883-1929. Wealthy steel magnate and philanthropist Andrew Carnegie strongly believed that libraries were essential for educating as many people as possible. The Lincoln Branch Library the last of three Carnegie Libraries in built in Duluth. It was designed by architects Abrahamn Holmstead and William J. Sullivan in the Late Gothic revival style. Library services ended in 1990 and two years later the Duluth Art Institute purchased the building in order to extend its outreach to an underserved part of the city. The institute's ceramics studio, painting and drawing studio are located there as well as a multipurpose great room. The library was added to the National Register of Historic Places in January 2013.
Images
View of the southwest facade of the building
The southeast facade of the building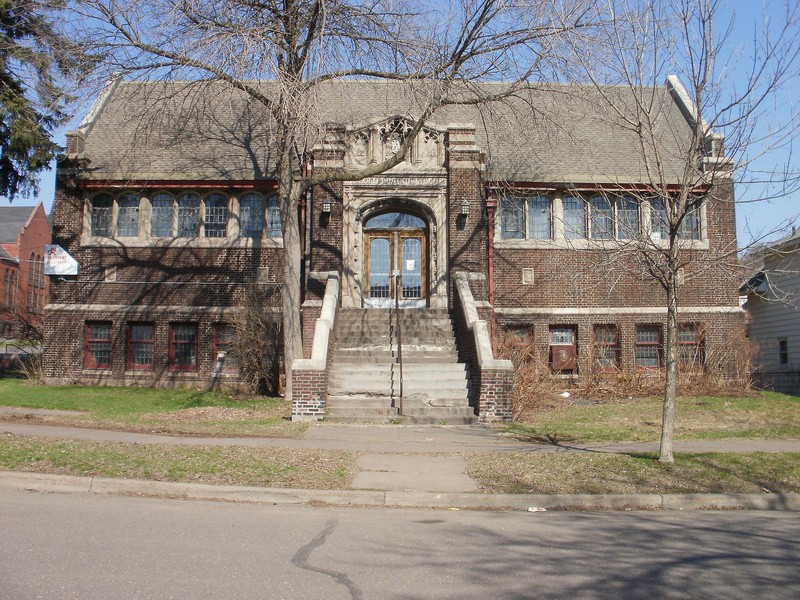 Backstory and Context
Efforts to establish a library in the West End neighborhood (known as Lincoln Park since 1996) of Duluth began in 1891 when a small library was set up in a storefront in the area. It was difficult to operate and fund the library and over the next couple of decades it was moved to different locations.

Finally, in 1915 the City of Duluth set aside $4,300 to buy land in West End and the Carnegie Corporation provided the rest of the funding. The corporation had established library construction guidelines and as a result, the process of acquiring the money entailed numerous letters sent between the city and the corporation; this took several months. The Construction lasted two years and the library opened with great fanfare on August 30, 2017.

The library underwent renovations in the coming decades and a garage was built in 1966 for a new book mobile service. A new library was constructed in the late 1980s and as a result the Lincoln Branch Library was no longer needed. The Duluth Art Institute purchased the building in 1992 and it functions today officially as the Duluth Art Institutes's Lincoln Center for Education.



Sources
Sommer, Barbara W.; Kellner, Debra K. ca. 2012. "NRHP Nomination: Lincoln Branch Library" (Draft copy), http://www.mnhs.org/shpo/nrhp/docs_pdfs/0042_lincolnbranchlibrary.pdf http://www.duluthartinstitute.org/about/history "Weekly List of Actions Taken on Properties: 1/14/13 Through 1/18/13", National Register of Historic Places. http://www.nps.gov/nr/listings/20130125.htm *please note that the official register document is unavailable as of March, 2015.
Additional Information