Louisville Slugger Museum & Factory
Introduction
Nothing feels more American than baseball, and The Louisville Slugger Museum & Factory explores this piece of America through exploring the famous Louisville Slugger baseball bats still created by Hillerich & Bradsby. The museum showcases the story of Louisville Sluggers, from the original Hillerich woodworking business in 1864 to the famous baseball players that later used the bats produced by the business. Any baseball lover will enjoy this museum.
Images
Louisville Slugger Museum & Factory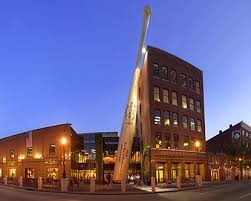 Louisville Slugger Museum & Factory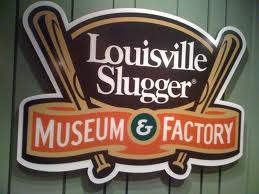 Backstory and Context
J. Frederick Hillerich immigrated from Baden-Baden, Germany in 1842. By 1864, J.F. Hillerich's woodworking shop in Louisville, KY was in business.
Two years later, a future important member of the business was born: John Andrew "Bud" Hillerich.
J.F. Hillerich's business was successful, and by 1875, he was able to employ around 20 people in the workshop. In 1880, 14-year-old Bud Hillerich became an apprentice in his father's shop. With his own love of baseball, Bud began making his own bats along with bats for several of his teammates, with whom he played in an amateur team.
Though history is unclear how exactly Bud's reputation for bats grew beyond his teammates and certainly how the first professional athlete first came to him, but legend has an interesting story, anyhow.
The legend says Bud crafted first pro bat for Pete Browning in 1884. A seventeen-year-old Bud, watching his favorite game, witnessed Browning break one of his bats, during a slump of misses the player was suffering from. After the game, Bud offered to make the professional player one of his own bats, and Browning agreed. According to the story, using the new bat, Browning broke immediately out of his slump, getting three hits in the very next game. Word spread around about Bud's bat-making abilities. Soon Pete Browning was labelled the "Louisville Slugger," and it was only a matter of time before Hillerich trademarked the title and used it for his bats.
Though Bud's father J.F. Hillerich was initially not so interested in baseball bats, slowly the father lost to the son, as the business soared under Bud's leadership.
In 1911, the father and son business took on a new partner, Frank Bradsby, who had been a successful salesman for one of Hillerich's largest buyers. When Bradsby became a full partner in 1916, the company name changed to Hillerich & Bradsby Co.
In 1919 the company launched its first national campaign, which was apparently successful. Four years later, they were make one million bats per year.
Today the Louisville Slugger Museum is housed alongside the company headquarters, which cannot be missed. The World's Largest Baseball Bat seemingly leans against the building (in actuality, the bat is free-standing), displaying for the world its very American industry.
The museum includes both hands-on exhibits and old memorabilia, such an 1880s Pete Browning bat.
Additional Information