Kentucky Science Center
Introduction
The Kentucky Science Center, formerly called the Louisville Museum of Natural History & Science and then Louisville Science Center, is the state science museum of Kentucky. Founded in 1871 as a mere cabinet within the Public Library System of Kentucky, the museum has grown to be the largest hands-on science museum in Kentucky, with three floors of exhibits to explore, a four-story theater, and its own teaching laboratories.
Images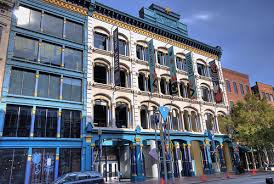 Backstory and Context
Getting its start as a collection of minerals and a single Egyptian mummy in 1871, the museum has expanded greatly since its early days!
In 2002, the Louisville Science Center was designated the State Science Center of Kentucky by the Kentucky General Assembly. However, the science center did not change its name until 2012, when it officially became the Kentucky Science Center.
Four permanent exhibitions include:
"The World We Create" - The exhibit's focus on chemistry, physics, engineering, telecommunications, and manufacturing explores the impact these sciences have on everyday life.
"KidZone" - KidZone is an exhibit catering to children ages 7 and under. A particular favorite is the Splash Zone, where children are able to explore water dynamics through manipulating pipes and tubing.
"The World Within Us" - Showcasing the human body, the exhibit explores aspects of healthy living, medical careers, and current research.
"The World Around Us" - Exploring the natural and earth sciences, visitors have the chance to examine the ways their choices impact their ecological footprint. Additionally, as a wing connected to the exhibit, several teaching laboratories have been created for classrooms and other groups to experiment with the topics they learn about in the museum.
Additional Information