Phebe Reynolds Thwarts Tory Mob in 1782
Introduction
At this spot in 1782, pro-British ruffians affiliated with Claudius Smith's Orange County Tories attacked and attempted to murder patriot leader Henry Reynolds and his family. The family was spared by the heroism and quick action of 11-year-old Phebe Reynolds.
Images
A historic marker commemorates Phebe Reynold's bravery where her heroic act saved her family from the Tory mob.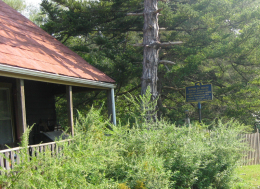 This sketch by Francis W. Davis depicts Phebe Reynolds saving her father's life.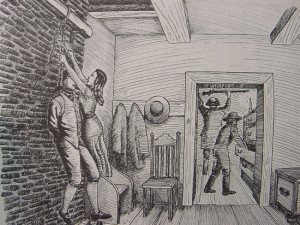 Backstory and Context
In the summer of 1782, the pro-British outlaw faction created by the late Claudius Smith made several attempts on Henry Reynolds' life. In July, marauders entered the Smith home, stabbed Henry Smith, and placed a noose around his neck. Not content to simply murder the man in front of his children and pregnant wife, the Tories plotted to set the cabin on fire. At that moment, Phebe surprised and overpowered one of the intruders, wounding him with his own sword.

The intruder quickly recovered and severely beat Phebe while his fellow conspirators proceeded to hang her father from the home's rafters. Upon learning that the young girl had thwarted their plans by again saving her father, the Tory mob returned to the home. This time, they not only attempted to kill the wounded Henry Reynolds, but proceeded to set the home on fire while placing a boulder in front of the door. Once again, Phebe rescued her father and helped the family escape. Had it not been for Phebe's bravery and quick action, her entire family would have likely perished in the fire.
Sources
John Conway, Phebe Reynolds Thwarts The Tories, The New York History Blog March 18, 2015. http://newyorkhistoryblog.org/2015/03/18/phebe-reynolds-thwarts-the-tories/ Accessed 3/18/2015 Kat Palmiotti, Reynolds House http://kathleenpalmiotti.com/2014/11/11/reynolds-house-for-sale-home-of-phoebe-reynolds-12-year-old-hero/ accessed 3/18/15
Additional Information