Sacred Heart Cathedral (Sacred Heart Music Center)
Introduction
Sacred Heart Cathedral, now Sacred Heard Music Center, was built in 1896 and served as a Roman Catholic church until 1985. It is one the remaining Neo-gothic revival style churches in Minnesota. It is famous for its Felgemaker organ which was installed in 1898. The cathedral and the Cathedral School, which is across the street, were named to the National Register of Historic Places in 1986. The Christian Brothers Home, built in 1907 and located directly adjacent to the school, was added to the same registry listing in 2005 which is now titled: Sacred Heart Cathedral, Sacred Heart School and Christian Brothers Home. The Sacred Heart Music Center hosts 12-15 concerts per year and seats 400 people. Regional and international artists perform in the venue, which also has a state-of-the-art recording studio. The center is also hosts weddings, receptions, business meetings, private parties, and is also a teaching space for members of the community, schools, and organizations.
Images
View of the cathedral, now the Sacred Heart Music Center, and the Cathedral School across the street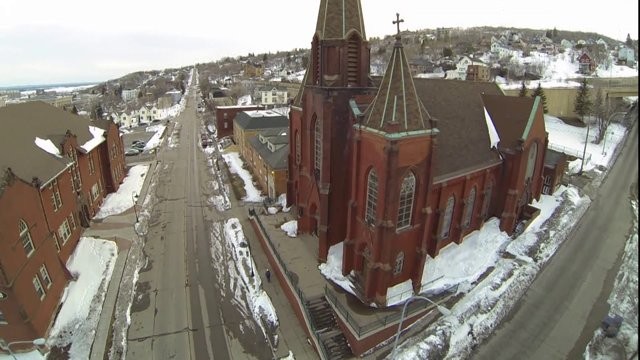 Interior view of the cathedral, which hosts over a dozen concerts each year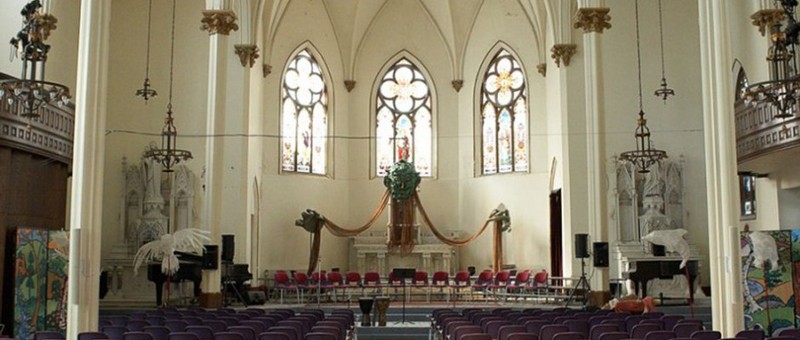 The front facade of the cathedral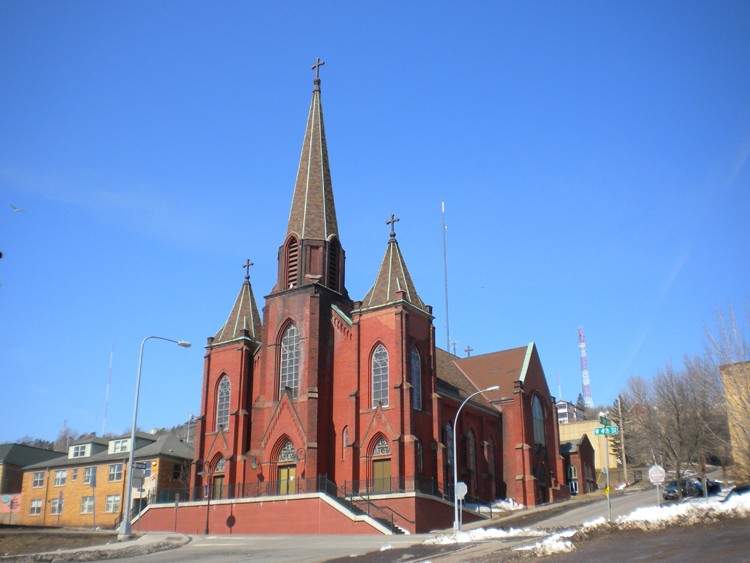 Backstory and Context
Construction of the cathedral began in 1894 and was completed in 1896. The Felgemaker organ was installed in 1898. It was built on the same site as a small, wooden church, built in 1870, which was the first Roman Catholic parish church in Duluth. This building burned down in 1892. The new cathedral served as the diocese's seat of authority until 1957, when a new cathedral was built.

The cathedral is located in the Central Hillside Neighborhood, which, by the mid-1900s had become increasingly poor. The sisters who resided there and the church's staff began serving food to the inner city residents. These efforts eventually became the only food bank in Duluth. Neighborhood residents also sought medical help. As a result, nurses from nearby St. Mary's Hospital came to the church to treat those who were sick. Eventually, these efforts became the city's only free clinic, now called the Lake Superior Community Health Center. The church also became a place for music and education for the community.

Professional musicians and started to inquire about playing the organ after hours. By the 1970s, a quarter choir group began attracting visitors to the cathedral. The church's organist, Joan Conelly, bought the cathedral for $1 and thereby saved the cathedral from demolition. Today, the it continues to be an important gathering place for the community.






Sources
Fridley, Russell W. "Sacred Heart Cathedral and Cathedral School", 6-26-86. National Register of Historic Places. http://pdfhost.focus.nps.gov/docs/nrhp/text/86001382.PDF McCormack, Patrick. "Sacred Heart Cathedral, Sacred Heart School and Christian Brothers Home", 3-29-2005. National Register of Historic Places. http://pdfhost.focus.nps.gov/docs/nrhp/text/05000446.PDF http://sacredheartmusic.net/about/history
Additional Information