Josh Gibson Field (Ammon Field)
Introduction
Once named Ammon Field, the Josh Gibson Field was the home of, for one year, the Pittsburgh Keystones in 1922. The field would later hold games for the Pittsburgh Crawfords and the Homestead Grays in the late 1920s until the early 1940s with the former becoming the home team. This stadium was the site of a scandal in which the Grays undermined the Crawfords and killed any competition they may have caused the Grays. Eventually in the 1940s, the field was split into two smaller fields for youths to use to play baseball. Today, the field is used as the field of a little league in cooperation with the Josh Gibson Foundation.
Images
The newly renovated scoreboard.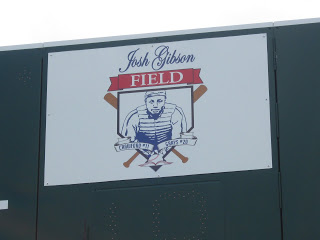 Youths sitting on Josh Gibson Field.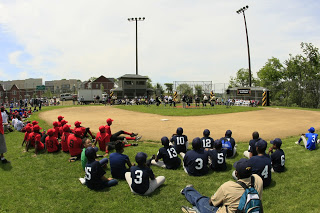 Old picture of Josh Gibson on Ammon Field.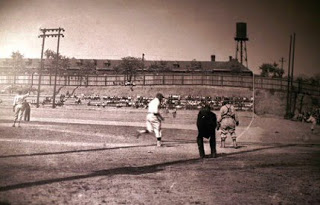 Backstory and Context
Ammon Field, later changed to Josh Gibson Field, was home to the Pittsburgh Keystones. They were a professional Negro National League team in 1922, but soon disbanded after only a single season. The field then found itself being used by both the Pittsburgh Crawfords and the Homestead Grays, of which, the Crawfords became the regular home team for the field. Starting out as a semi-pro team, the Crawfords began to attract attention to the public with their play, which was in part due to Josh Gibson's play. His play was so good, many called him, " The Black Babe Ruth," which only gave credit to his hitting ability.
During this time, Cum Posey, the owner and manager of the Homestead Grays, began to feel threatened by the Crawfords as they took in larger crowds. Posey convinced Hooks Tinker, the manager of the Crawfords, to bring on his brother, See Posey, as a booker. By law, all amateur games were free to the public, but Posey closed all but one gate during one tournament and forced the public to give "donations" to the club. This hurt the popularity of the team and began their demise. Soon after, Posey managed to get Josh Gibson to sign on with his team the Grays, and that essentially killed the Crawfords at Ammon Field. Charging people for free games and losing their best player, interest in the Crawfords vanished.
In the 1940s, Ammon Field was split into two smaller fields for youths to use as a field to play on. Today, the field has been renamed the Josh Gibson Field and works hand in hand with the Josh Gibson Foundation to preserve the history of the Negro League and promote the play of baseball among the youths of the area. The field underwent a renovation in 2008, during which time, the field and the area around the field got some much needed upgrades for the youths that use the field.
Sources
The History of Baseball in Pittsburgh - Popular Pittsburgh. (2014, November 24). Retrieved March 18, 2015, from http://www.popularpittsburgh.com/baseballhistory/ Pirates Charities at Josh Gibson Field. (n.d.). Retrieved March 18, 2015, from http://pittsburgh.pirates.mlb.com/pit/community/gibson_field.jsp Nats320 -- A Washington Nationals Blog. (n.d.). Retrieved March 18, 2015, from http://nats320.blogspot.com/2009/08/josh-gibson-field.html
Additional Information