1961 Student Strike, Burgland Senior High School
Introduction
After Burgland high school student Brenda Travis was placed in jail for her participation in a sit-in protest against segregation at the local bus station, her fellow students launched their own protest that ended with 116 young people being assaulted and arrested by the city's all-white police force. Many of the students were arrested while they were praying for justice and racial equality on the steps of the City Hall. Although the younger students were soon released, 76 older students and community members who were also part of the civil rights movement in McComb were held in the County Jail for 40 days. In addition, school officials expelled many of the students who participated in the demonstration.
Images
Students protest the arrest of Brenda Travis and other civil rights activists by staging a walkout on October 4, 1961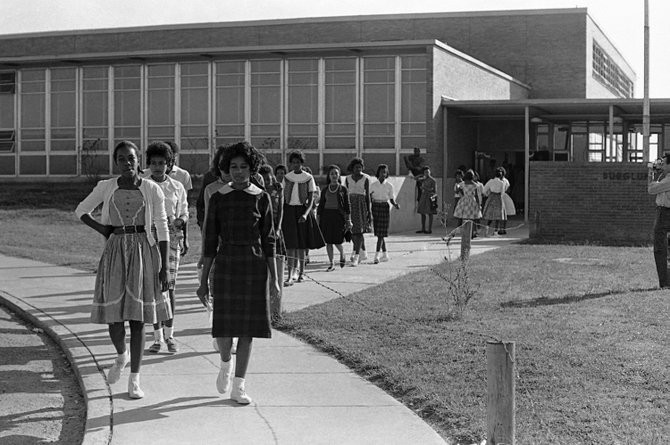 Raymond Arenault, Freedom Riders: 1961 and the Struggle for Racial Justice-Click the link below to learn more about this book.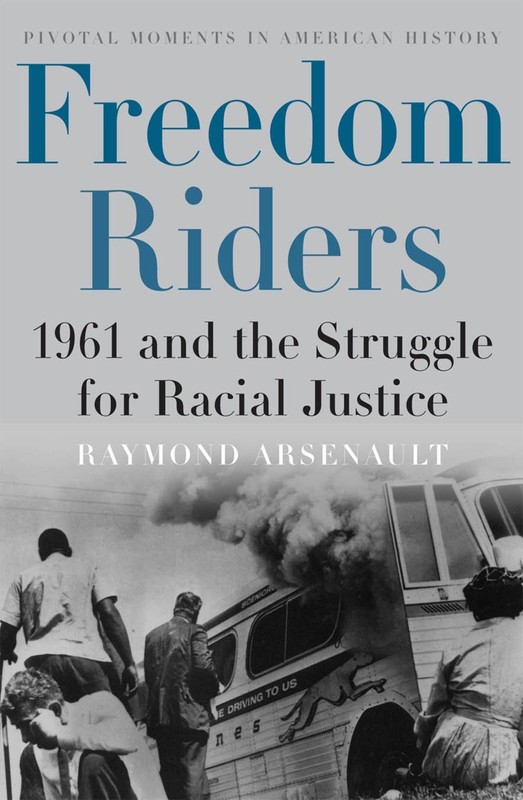 Newspaper clippings describe the reaction of city leaders to the protest and its aftermath.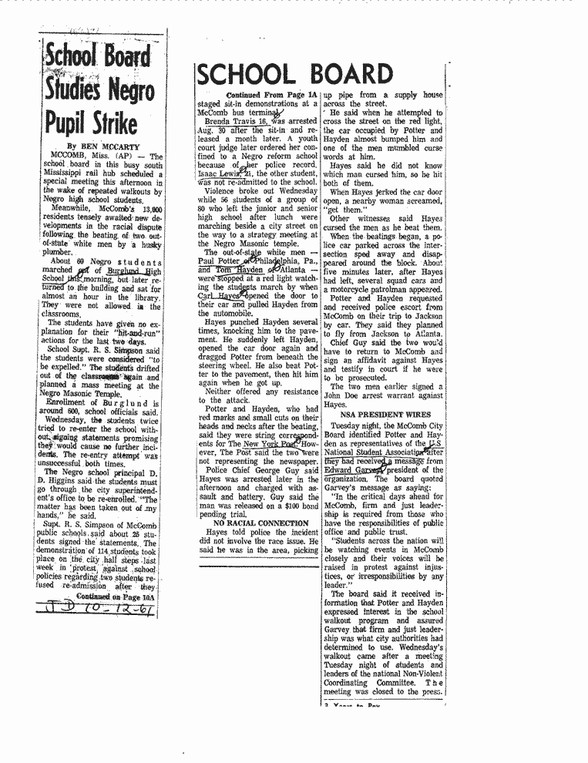 Backstory and Context
Leading area civil rights activists and community members had been organizing protests against segregation throughout the area, often meeting violent resistance and mass-arrests in McComb. The courage of Brenda Travis and other high school students galvanized their peers as three hundred Burgland students vowed to march in protest of their treatment and arrest. The students were joined by one white man, recent college graduate and future national civil rights icon Bob Zellner. The appearance of a white Southerner marching in solidarity with African Americans enraged the growing white mob. While police watched in amusement, Zellner was beaten by members of the mob and nearly killed before being arrested and sentenced to prison.

Although the violence against these protesters would help galvanize support for the movement beyond the South, the constant arrests, firings, beatings, and bombings threatened to derail the movement in McComb and other small Southern communities. With the assistance of national organizations and the reluctant intervention of the Department of Justice, however, violent attacks on protesters would also come at a cost for defenders of segregation and white supremacy. After two years of protests, arrests, and increasingly unfavorable media coverage, moderate white leaders and business interests hoped to broker an end to the violence and lawlessness that also resulted in a gradual end to racial segregation.

Sources
Raymond Arenault, Freedom Riders: 1961 and the Struggle for Racial Justice, p451-468. McComb School District , McComb Legacies website, McCombLegacies.org accessed 3/15/2015
Additional Information