St. Louis Cathedral
Introduction
St. Louis Cathedral is among the oldest churches in the United States and one of New Orleans' most notable landmarks. Its prominent facade overlooks Jackson Square and has stood at the heart of old New Orleans since its opening in 1727. St. Louis Cathedral has played host to some of histories most prominent figures as well as having been a sight of several tragedies.
Images
View of the facade of Saint Louis Cathedral from across Jackson Square.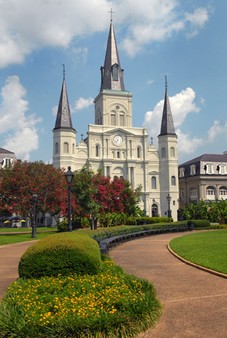 Rendering of the first version of the church, reprinted in "New Orleans as it was. Episodes of Louisiana life" by L. Graham & son, ltd., printers in New Orleans (1794; published 1895).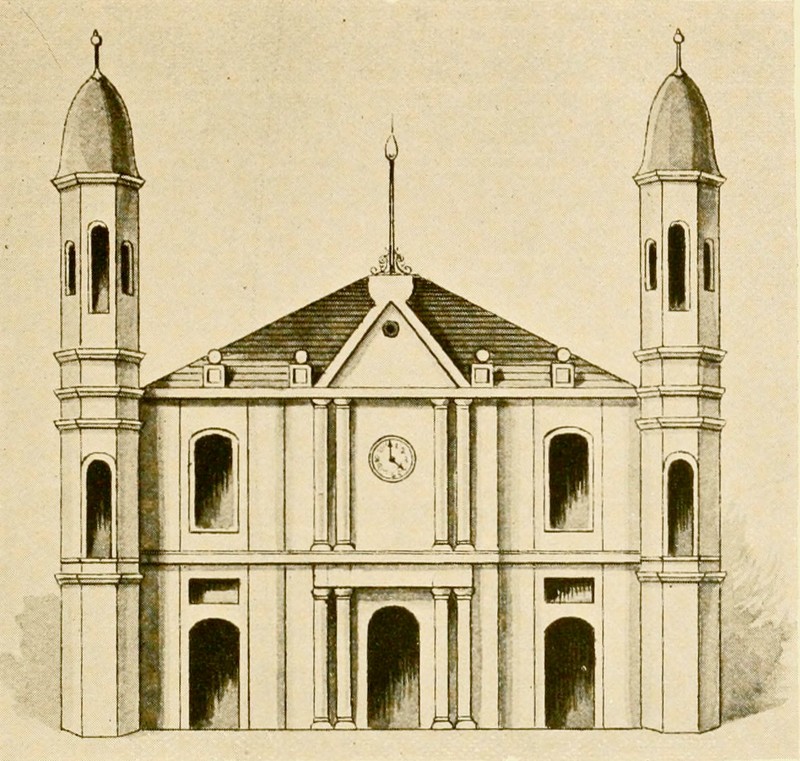 Rendering of the facade, from "Gibson's Guide and Directory of the State of Louisiana"(1838).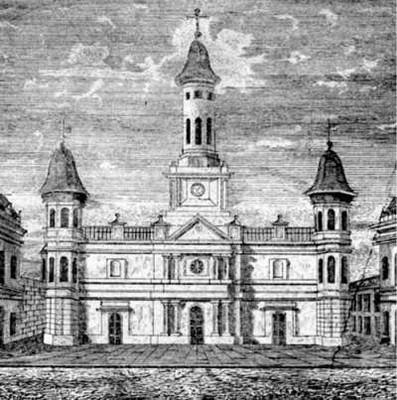 Interior of the cathedral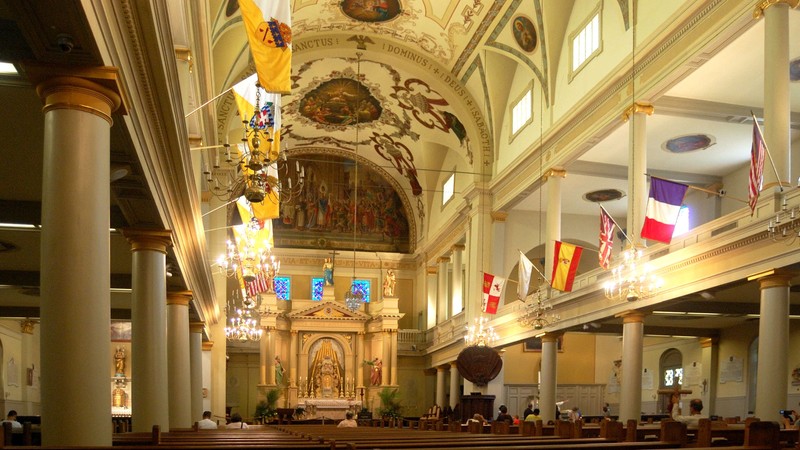 Backstory and Context
In addition to its own historic significance, the St. Louis Cathedral is particularly notable because it is the oldest operating Catholic church in America, in the only state in which Catholicism is the dominant religious denomination.
The French Engineer, Adrien de Pauger, designated the site for a church in 1721. The new church was possibly the first building to be rendered in the "brick between posts" architectural style. It was dedicated to the sainted King Louis IX. Unfortunately, de Pauger was unable to see the church's completion as he died in 1726. The following year, the church opened its doors to the public, with citizens of every social status attending its ceremonies within the church.
In 1788, the church and priest's residence burned to the ground. In 1794, the new church, donated by the wealthy Don Andres Almonester y Roxas, open its doors. In 1819, a clock and bell were installed in the central tower of the cathedral, purchased by the City Council. Today this bell continues to ring the hours of the day.
Unfortunately, during construction to expand the cathedral in 1850, the central tower collapsed and only the bell could be saved from the original Spanish architecture. The building was renovated and most of the present structure was built at that time. 
Like many other historic buildings in New Orleans, the cathedral is rumored to be haunted. In this instance, the claim is that Pere Antoine inhabits the building. Pere Antoine is best known for caring for the poor of the city and baptizing the Voodoo queen Marie Laveau.
Sources
"Our History." Cathedral-Basilica of Saint Louis. Retrieved 8 January 2017. http://www.stlouiscathedral.org/our-history
"Rebuilding The Cathedral". The Saint Louis Cathedral: Cathedral of Saint Louis King of France, New Orleans, Louisiana. Archived from the original on September 6, 2007.
"Early History - Chapter III - Major Events". The Saint Louis Cathedral: Cathedral of Saint Louis King of France, New Orleans, Louisiana. Archived from the original on September 4, 2007.
Additional Information