B'nai Israel Temple
Introduction
The historic synagogue, opened in 1891, was the second permanent house of worship in Salt Lake City for Congregation B'nai Israel. The conclusion of the "Mormon Conflict" in 1857 helped the Jewish community slowly gain more freedom, and the temple denotes that increased prominence within the city. Indeed, America's third Jewish state governor was elected in 1916 in Utah.
Images
Congregation B'nai Israel, the First Synagogue in Salt Lake City, Utah, was built in 1891.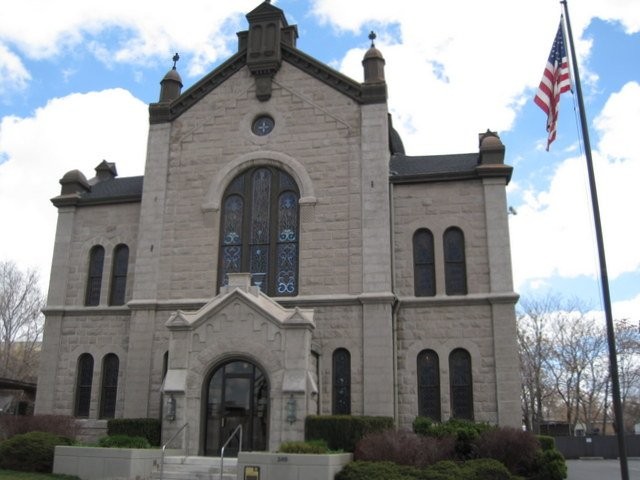 Temple, designed by Philip Meyer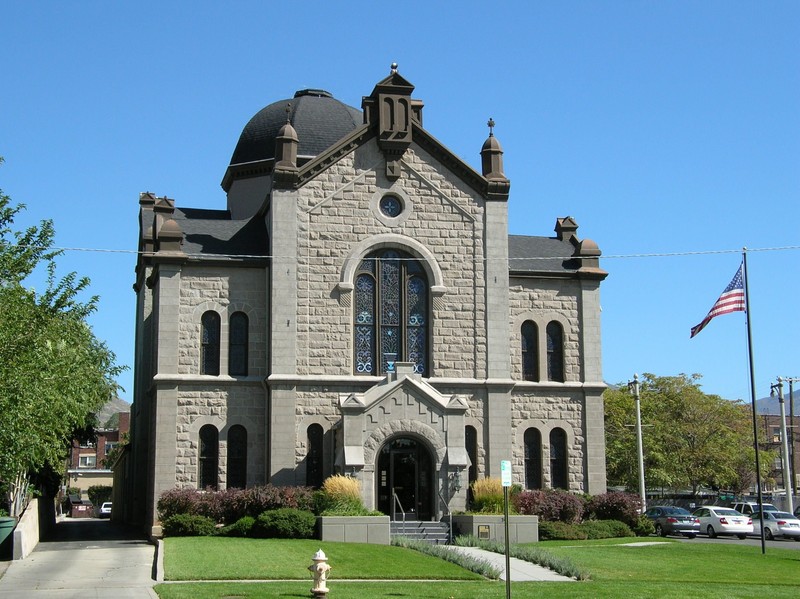 Backstory and Context
The 1857 conclusion of the "Utah War" (A.K.A. Mormon Conflict) resulted in the removal of Brigham Young as territory governor, formerly separated Mormonism from Utah polity, the establishment of substantial U.S. military presence, and subsequently allowed for the slow growth of the Jewish presence in the region. Indeed, Utah boasts of electing America's second state governor in 1916. The Temple, opened in 1891, is a monument to that increased Jewish influence in Salt Lake. However, it's architect later died in a Nazi death camp, reminding us all of the many layers of religious persecution that has existed throughout history.
It is argued by many that some Latter-Day Saints (LDS) members regarded those of Jewish faith to be "favored Gentiles," since LDS beliefs centered on notions of existing as a Latter Day Israel. Nonetheless, not all treated Jews cordially, and Jews did not enjoy religious or economic freedoms accorded to those of the Mormon faith. The conclusion of the battle between Mormons and the federal government slowly loosened the grip Mormons had on Salt Lake's economic climate, especially with regard to trade monopoly that had been established by the Brigham Young of the Zions Cooperative Mercantile Institution.
Eventually, freedoms provided to local Jews allowed for an improved business climate, as well as greater freedom to worship. In 1881 leading members of the Salt Lake Jewish community came together to incorporate as "B'nai Israel of Salt Lake City." The leaders secured a small lot and constructed the city's first synagogue and Hebrew School, which opened in 1883. However, echoing the schisms found among the broader American Jewish community during the nineteenth century, internal squabbling resulted in a split among the local Jewish community. Those who chose to remain with Orthodox practices separated from B'Nai Israel, and eventually incorporated as Congregation Montefiore.
The B'Nai faction built a new structure, which is the building that remains today. At the time, the Salt Lake Tribune lauded it for its grandness. A large percentage of B'Nai members were a first or second generation German immigrant. Consequently, the community chose to model the building after the Great Synagogue of Berlin. The architect, Philip Meyer, had been brought from Germany to work with local architect Henry Monheim. Meyer later returned to Germany where he became an architect in the service of the Prussian state and the Imperial household. Sadly, he later perished in a Nazi death camp.
B'Nai Israel temple is one of the last remaining tangible achievements of Utah's pioneer Jews. The importance of B'Nai Israel not only affected the local economy and religious culture but the third Jewish governor of any American state occurred in Utah -- Simon Bamberger, elected in 1916.
Sources
"About Us." Congregation Kol Ami. Accessed March 7, 2017. https://www.conkolami.org/about-us.

"Congregation B'nai Israel, the First Synagogue in Salt Lake City, Utah." Jewish Museum of the West. Accessed March 9, 2015. http://www.jmaw.org/bani-israel-salt-lake-city.

Furniss, Norman F. Mormon Conflict: 1850-1857. New Haven: Yale University Press, 2005.

Goodman, Jack. "Jews in Zion: Peoples of Utah." Utah History to Go. utah.gov. Accessed January 25, 2018. http://historytogo.utah.gov/people/ethnic_cultures/the_peoples_of_utah/jewsinzion.html

Smith, John. "B'nai Israel Temple." National Park Service - National Register of Historic Place Nomination Form. November 16, 1978. https://npgallery.nps.gov/pdfhost/docs/NRHP/Text/78002666.pdf.

Stone, Eileen Hallet. A Homeland in the West: Utah Jews Remember. Salt Lake City: University of Utah Press, 2001.


Photo Sources

Temple Picture: By slc.history - Own work, CC BY-SA 3.0, https://commons.wikimedia.org/w/index.php?curid=21179168

Temple, designed by Philip Meyer: Utah Center for Architecture, http://utahcfa.org/project/bnai-israel-temple_149
Additional Information