Fort Cameron
Introduction
Fort Cameron was an active United States Military Installation for 11 years, serving the greater Beaver area. It was built because the United States Government feared that the Native Americans would harbor hostility and attack. Today, a quilt shop and golf course take up most of the land, but some of the original buildings are still in place.
Images
One of the few remaining Fort Cameron buildings that has now been turned into a quilt shop.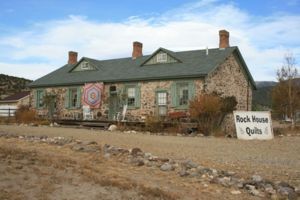 Backstory and Context
Built of local lava stone around a quadrangle 700 by 620 feet, this military outpost was the first for the relatively young town. First used by four companies of troops in 1872. Four barracks were built, one for each company, on the east and west sides of the quadrangle.
The fort was abandoned on May 1, 1883, and the troops removed to Fort Douglas in Salt Lake City. The property was sold to two local Mormons who donated the majority of the property to the Brigham Young University, Beaver Branch, Murdock Academy (1898-1922).
According to Linda Bonar:
During its eleven-year history, the fort had accommodated anywhere from a high of 215 soldiers in 1873 to a low of 43 in 1877. Its hospital was the only one within a 150-mile radius, and while its purpose was to treat soldiers, it also provided care for many local townspeople as well. There was some inevitable friction, but relations were frequently cordial between soldiers and civilians. Many officers had their own families in residence at the fort, and some soldiers married local women and settled in the community. A collaborative Fourth of July celebration in 1876 for the centennial of America's independence was jointly enjoyed by all, with special performances by actors and musicians.



Sources
http://www.uen.org/utah_history_encyclopedia/f/FORT_CAMERON.html http://www.beaverutah.net/history/