James Brown Cherokee Plantation
Introduction
This historic house and its property is significantly important as a marker and reminder of the Trail of Tears movement and its Cherokee leaders. Although this house is not open to the general public, visitors can see the house clearly from Ooltewah-Georgetown Road.
Images
This is the James Brown Cherokee Plantation or Brown House. Courtesy of Brad Snoke.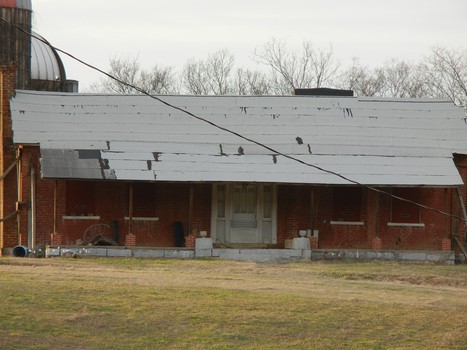 Backstory and Context
The James Brown Cherokee Plantation House was built between 1835 and 1841. This time period encompasses an American tragedy of the Trail of Tears. The owner of this property, James Brown, was a Cherokee Indian who was known by some to be "3/4 to full blooded Cherokee Indian."1
James Brown was a judge for the district of Chickamauga and later for the Cherokee Supreme Court. After his election to the Cherokee National Counsel, he led Ooltewah Cherokee Indians to Oklahoma in the movement we know as the Trail of Tears in 1938.2
Although James Brown left the Cherokee Plantation house, his daughter Jane and Brainerd Missions School physician, Dr. Yarnell, continued to live there. Near the simple Federal-style brick house that is known as the James Brown house, remains of family members are buried in their graveyard.3
The James Brown Cherokee Plantation is a Certified Site on the Trail of Tears National Historic Trail.4 Many Native American Indians lost their lives during this forced removal. Torn from their homes and lives as they knew, they were relocated, in this case, in Oklahoma. Walking without adequate covering for their bodies and feet, journeying without traditional medicines, and lack of general sustenance, Native American Indians traveled the Choctaw Nation's description of the journey, The Trail of Tears.
When viewing this historic site, which must be done for a distance, you may reflect on the Native American journey across these local lands. Please enjoy the links provided by Clio to learn more about this part of American History and the Trail of Tears.
Sources
1. http://www.examiner.com/article/the-james-brown-house 2. http://www.examiner.com/article/the-james-brown-house 3. http://www.nps.gov/trte/planyourvisit/places-to-go-in-tennessee.htm 4. http://www.nps.gov/trte/learn/management/certified-sites-on-the-trail-of-tears-nht.htm http://en.wikipedia.org/wiki/Trail_of_Tears http://www.examiner.com/article/the-james-brown-house http://www.nps.gov/trte/planyourvisit/places-to-go-in-tennessee.htm http://www.nps.gov/trte/learn/management/certified-sites-on-the-trail-of-tears-nht.htm http://thepeopleofthehuntingground.com http://www.cherokeeplantation.com/ http://en.wikipedia.org/wiki/Ooltewah,_Tennessee http://www.cherokee.org/AboutTheNation/History/Places/EarlyCherokeeSettlements.aspx
Additional Information