BYU Museum of Paleontology
Introduction
The BYU Museum of Paleontology showcases many fossils from the Jurassic Period, which spans a period from approximately 210-140 million years ago. The museum houses one of the top five collections from the Jurassic Period in the world.
Images
The museum is located west of the LaVell Edwards Football Stadium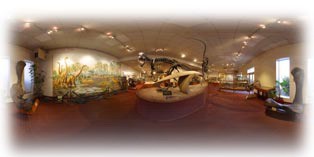 Backstory and Context
The BYU Museum of Paleontology was built in 1976 to prepare, display, and house the rock and dinosaur fossils collected by Dr. James A. Jensen and his crews. Over decades of field work, Dr. Jensen and crews gathered fossils from locations in Utah, Colorado, Montana, and Wyoming. For years, the vast collections of the unprepared field jackets were stored under the BYU football stadium. Now, with the new 5,000 square-foot addition, and years of laboratory preparation, nearly all of the fossils are kept at the museum in the collections room.
As part of the BYU educational system, the Museum of Paleontology provides labs and hands-on learning to university students. The museum is also a popular attraction for school groups throughout Utah. Each month school groups visit the ESM to take tours and learn more about ancient plants and dinosaurs. Approximately 25,000 visitors a year come here to see dinosaur fossils prepared, to touch real fossils, and to learn about paleontology.
Sources
http://en.wikipedia.org/wiki/BYU_Museum_of_Paleontology
Additional Information