Endview Plantation
Introduction
Built in 1769 along the Great Warwick Road by William Harwood, this Civil War-era plantation is now a living history museum. The two-story Georgian-style home includes a twenty-four acre plot of land with two cemeteries and three outbuildings. The home was used as a resting place during the Revolutionary War. During the Civil War the home was used as a hospital. Newport News acquired the building in 1995 and restored it to its current condition.
Images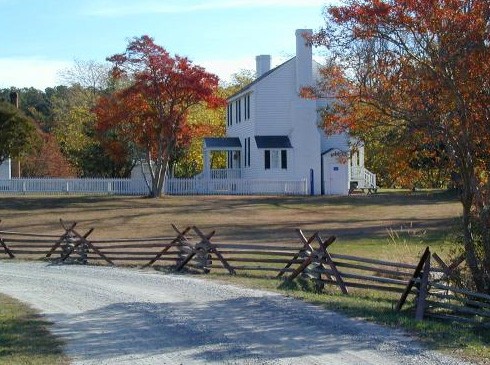 Backstory and Context
William Harwood completed construction of what was originally named Harwood Plantation in 1769. It would later be renamed Endview in the mid-1800s. The home is a two-story Georgian-style single family house. On the twenty-four acre piece of land there are also three buildings brought in for use in the museum. The first is a reproduction colonial home. The second is the Denbigh Dairy Farm; this building was relocated in 1999. The third building is a reproduction smokehouse. Also on the grounds are the Curtis and Hardwood Cemeteries. These private cemeteries were used by the inhabitants of the home. The remaining grave markers date from the nineteenth century though there are burials that date back to the colonial era.

Because of its ideal location, Endview has been used by soldiers throughout history. During the Revolutionary War, the plantation was used as a rest stop for soldiers. During the Civil War, Endview was used as a hospital for Confederate soldiers in the 1862 Peninsula Campaign. The Plantation was acquired by Newport News in 1995 and has been used a museum since then. After the city gained ownership of the Plantation, they began restorations to the building to bring it back to its 1862 appearance.

The Endview Plantation is currently used as a living history museum. Reenactments illustrate how residents of the area lived during the Civil War era. Each year a battle from the Civil War is chosen and a weekend long reenactment is put on by volunteers. Visitors during the period can see battle strategies played out on a large stage. Visitors are taken through ranks and taught how battle formations were created on the field.
Sources
http://www.endview.org/index.php https://www.youtube.com/watch?v=8i5xpoziMp8 http://www.Virginia.org/Listings/Events/CivilWarReenactmentatEndviewPlantation/
Additional Information