Hampton University/Institute
Introduction
While Hampton University primarily functions as a University it has a rich history among African Americans. The ground Hampton sits on now wasn't always a university but it has functioned as a place of learning for just over 150 years. Booker T. Washington is the most notable graduate among many others over the years. From under the Emancipation Oak to the continued excellence of the University, Hampton truly has influence throughout history.
Images
The emancipation oak is within the confines of the Hampton Univeristy campus. The oak is known to be the spot of the first reading of the emancipation proclaimation in the south.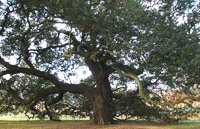 Booker T. Washington was one of the most notable graduates of Hampton Institute. Washington was the founder of Tuskegee University.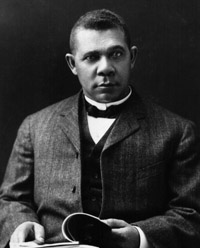 Backstory and Context
Hampton University has humble beginnings as it first originated from a camp of recently freed slaves beyond the reach of the Southern army in the Civil War. Slaves would not be returned to the South if they escaped; the camp was established to house them. A freed African American by the name of Mary Peake was asked to teach people and thus the university began. She began teaching underneath an oak tree known now as the "simple oak" or the "emancipation tree". A couple of years later the emancipation proclamation would be read under the same tree for the first time in the South.
A school was established shortly thereafter and accepted students from across the country. Booker T. Washington would go on to become the most famous graduate of the University. Washington is most notable for founding the Tuskegee Institute in Alabama. The future graduate was a hard worker and under the tutelage of General Armstrong became a teacher at the school. Armstrong was asked to recommend a white leader for the Tuskegee school and he sent Washington. Washington, of course, won over his white counterparts and developed the university into what it is today and went down as one of the most influential African Americans of all time.
The Hampton Institute received accreditation in 1930 after renewing and upgrading various pieces of the college over the years. The most notable addition was the Robert C. Ogden Auditorium, which the school's official site considers to be "one of the finest acoustical venues in the nation."
Over the years Hampton was visited by Civil Rights leaders such as Martin Luther King Jr. and even Rosa Parks took a position at the school as hostess of the Holly Tree Inn. The name Hampton University was adopted in 1984 and the school continues to educate about its rich heritage today.
Sources
1. "History", last visited October 1, 2014, http://www.hamptonu.edu/about/history.cfm 2. "Emancipation in Virginia", last visited October 1, 2014, http://www.Virginia.org/Emancipation/ 3. "Jim Crow Stories- Booker T. Washington", last visited October 1, 2014, http://www.pbs.org/wnet/jimcrow/stories_people_booker.html