Elsing Green Plantation
Introduction
Elsing Green is a Georgian plantation house that was built in the 1690's and sits along the Pamunkey River. The mansion located in King William County, Virginia, is a brick covered home that is in the shape of a U. This plantation has approximately 3,000 acres covered by woods, swampland and farmland. Included in this land is a mile long avenue perfect for walking on. Elsing Green currently offers public educational tours as well as the ability to rent the space for private events. This monument is just one of many that is a contribution from the King William Historical Society.
Images
Back view of the Elsing Green Plantation. photo undated.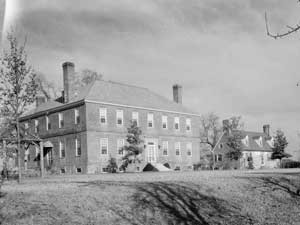 Cemetery at Elsing Green.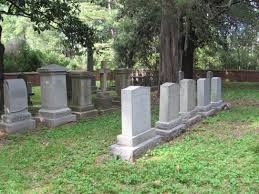 Backstory and Context
The Elsing Green Plantation has been around for over three centuries and was first owned by the West family of Lord Delaware. No one has an exact date of when the plantation was established because most of the information was destroyed during the War Between the States. What they do know is that the West family built the manor house in the 1690's. The manor house is the main mansion located on the property. It is a two story brick home with a basement, which was very rare for the 17th century. The house has two wings, east and west, located on either side of the home. To the right of the home is a lodge that was built before 1690. The lodge is one and a half stories, which also includes a basement. The plantation is a very secluded area.

The property was eventually sold and bought by the Dandbridges, who were closely related to George Washington. During their time owning the plantation the Queen Anne manor house and kitchen house were built. When it was time to sell the house again, the Lafferty family bought the land. The Lafferty family were the last people to own this home and actually created the Lafferty Foundation to help preserve the house. In 1980 the property was bought by the Virginia Historic Landmarks Commission and the Virginia Outdoors Foundation to ensure the house was properly preserved.

The Elsing Green Plantation offers many attractions on its 3,000 acre lot. Because of its secluded area and various environments, it is the perfect place to hold family gatherings, corporate functions, or weddings. The plantations offers a very quiet, distraction free experience. Located on this property is The Boathouse at Grandfather's Pond. This place is perfect to take a walk to and just relax while taking in all the nature scenery surrounding it. Just east of the manor house is, The Lodge, which is a rustic old brick home that is a perfect place for people to get in touch with the in depth history of this plantation. Elsing Green Plantation is a perfect place to explore history while relaxing at the same time.
Sources
http://www.kingwilliamhistory.org/historic_landmarks.html
Additional Information