Crandall Historical Printing Museum
Introduction
Visitors to the Crandall Museum learn, through hands-on experience, the invention of and the effects of the printed word. With a focus on U.S. history, the museum include hands-on demonstrations of original printing presses. Live historical documents and other artifacts make up the rest of the museum.
Images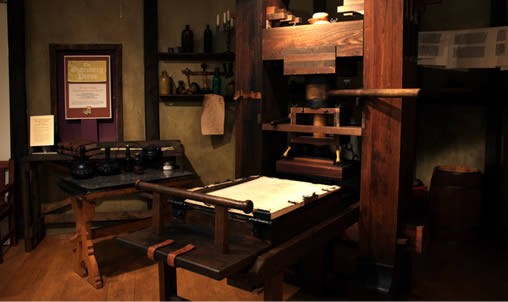 Backstory and Context
Louis and Mabel founded the Crandall Historical Printing Museum in 1996. Mabel originally had the idea for the museum, and encouraged her husband to display his antique printing equipment. His belongings include presses, type cabinets, stones, paper cutters and other period printing equipment. He has worked diligently to collect more and more documents and tools so that visitors have something new to look at every time they visit.

Some of the items on display in the museum today include the world's most authentic printing of pages of the Gutenberg Bible, Declaration of Independence, Constitution of the United States, the 1829 Book of Mormon, and the 1850 Deseret News.
The museum is arranged in chronological order, starting with the first writing implements, and then it is a walk through the timeline of printing history. These time travelers learn of the lives and works of the ancient writers through the historical periods of the Reformation, the Incunabula, the founding of America, the Westward Movement, and, finally, the world of today's mass communications.
Sources
http://crandallmuseum.org/about-the-museum/founder http://crandallmuseum.org/about-the-museum/introduction
Additional Information