Quarters A, Brooklyn Naval Yard
Introduction
Quarters A is a federal style house where commanders of the Brooklyn Navy Yard used to live. It is located in the Vinegar Hill neighborhood of Brooklyn. The most notable commander was Mathew C. Perry, who, in the early 1850s, sailed to Japan and forced it to open up trade with the United States. Perry lived at the house from 1841-1843. The house is now privately owned and as such is not open to the public. It is only possible to see glimpses of it from various vantage points, the best of which is from the front gate on Evans street.
Images
Looking at the house through the front gate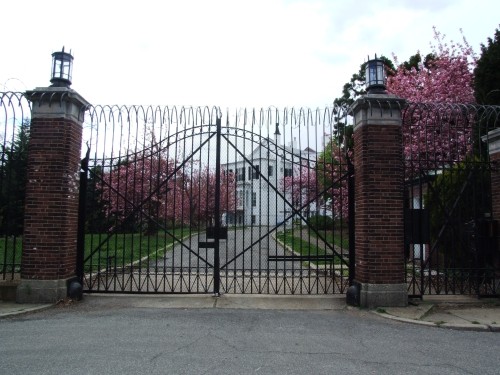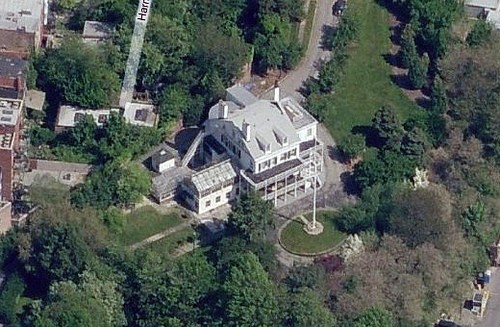 View of the house 1935. Credit: Brooklyn Public Library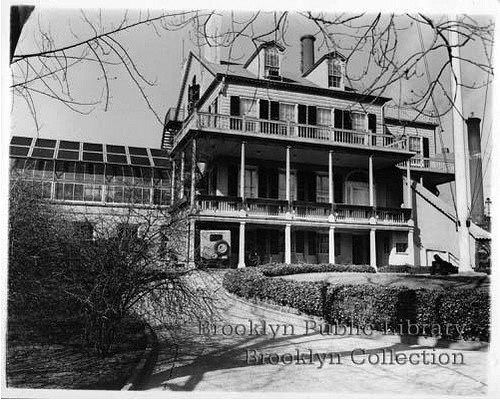 Side view of the house 1935. Credit: Brooklyn Public Library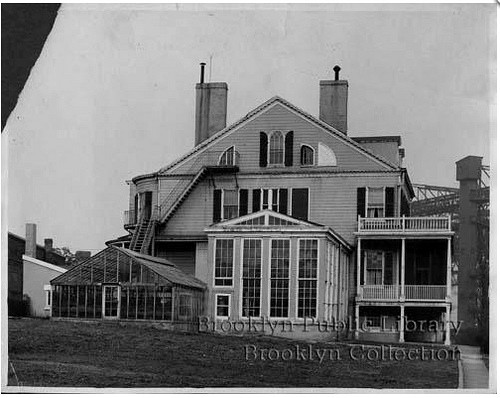 Backstory and Context
Quarters A was built between 1805 and 1806. According to the Brooklyn Naval Yard archivist, it is not known for certain which architect designed the house, but it is usually attributed to Charles Bulfinch. The house has three floors and a large lawn next to the southeastern side. An addition was added in 1905. It is rumored that the oval dining room of the house is the same size as the oval office in the White House in Washington D.C.

Commandants who lived there served during the American Civil War, the Spanish-American War and World Wars I and II. The importance of the naval yard began to decline after World War II, during which thousands of workers built ships, including the U.S.S. Arizona which was sunk at Pearl Harbor in 1941. The yard closed in 1964, and the house was sold to a private owner and remains so today.

New York City designated the house as an historic landmark in 1964 and ten years later in 1974 it received National Historic Landmark status.



Sources
Gray, Christopher. "A Federal-Style Gem That Outshines Gracie Mansion". New York Times, 6-6-2005. Levy, Benjamin. "Quarters A." National Register of Historic Places Inventory - Nomination Form, 11-15-73. http://pdfhost.focus.nps.gov/docs/NHLS/Text/74001252.pdf Morris, Montrose. "Building of the Day: 24 Evans Street". 4-26-12. http://www.brownstoner.com/blog/2012/04/building-of-the-day-24-evans-street/