Booker T. Washington National Monument
Introduction
Established in 1956, the Booker T. Washington National Monument preserves the birthplace of educator, orator, and civil rights leader, Booker T. Washington. Born into slavery on what was then the Burroughs Plantation, Washington spent the first nine years of his life in bondage. After gaining freedom at the end of the Civil War, his family moved to West Virginia, where he worked in salt mines and attended school for the first time. He then dedicated himself to educating the Black communities of the South, turning a one-room school in Tuskegee, Alabama into the thriving Tuskegee University. The National Monument interprets Washington's life in slavery as well as his renowned accomplishments, all of which were shaped by his childhood in bondage. In addition to exhibits about his influence and rise from slavery, the park provides some idea of what life was like on a slave plantation. The park has a reconstructed tobacco barn, a smokehouse, a tool shop, and interpretive farm with a garden and animals.
Images
The park invites visitors to reflect upon the history of slavery as well as the life and legacy of Washington. This reconstructed kitchen is used in living history events.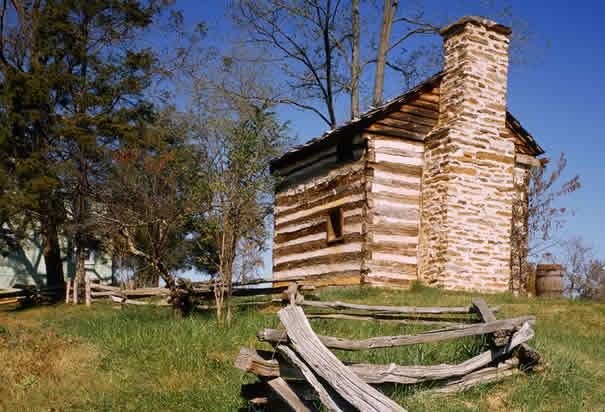 Washington spent his childhood as a slave at the Burroughs Plantation. These experiences shaped his dedication to Black enfranchisement for the rest of his life.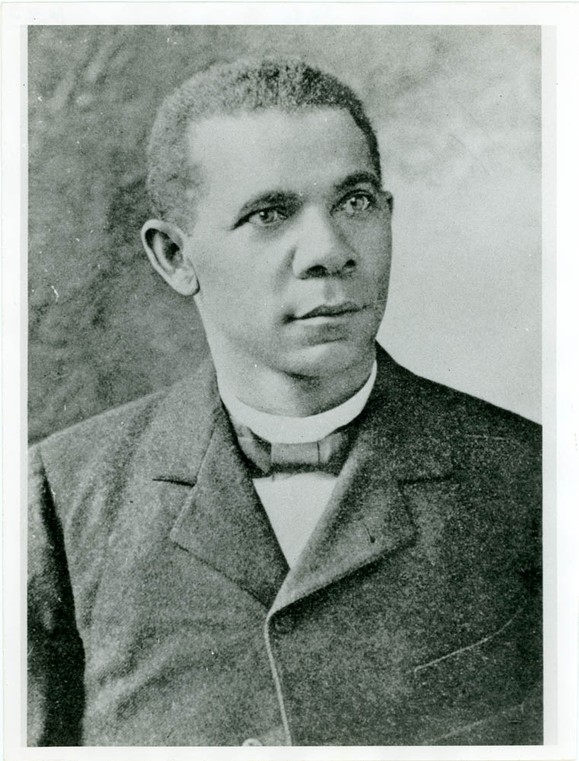 Bust of Booker T. Washington created by James Barnhill.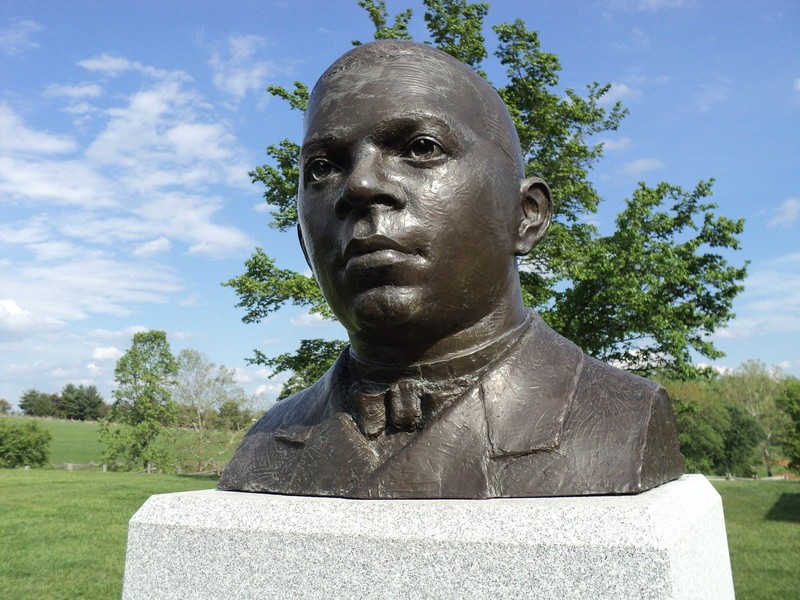 Backstory and Context
"Character, not circumstances, makes the man." - Democracy and Education speech, Institute of Arts and Sciences in NY, September 30, 1896
From birth until the age of nine, Booker T. Washington, an essential figure in the history of American civil rights, lived on a Virginia plantation as a slave. Born to an enslaved woman, Jane, in April 1856, Washington was considered the property of James and Elizabeth Burroughs, who owned approximately ten slaves on their property of more than 200 acres. Today, this plantation is preserved in memory of Washington and his legacy as a pioneer of civil rights in the decades after Emancipation.
Washington was among the last individuals born into slavery in the United States. On the Burroughs's plantation, Washington lived in a log cabin where he and fellow slaves slept on a "bundle of rags" instead of a bed. Though not permitted to attend school, he was exposed to the idea of getting an education while carrying books for Laura Burroughs, a teacher. In 1861, Southern states broke from the Union in an effort to preserve the institution of slavery. Washington's childhood in bondage, therefore, was also shaped by the additional hardships of war. Blockades limited the amount and types of food, for example, that the plantation had access to. In 1865, the crumbling of the Confederacy and end of the Civil War brought freedom to Washington, which he detailed in his autobiography, Up from Slavery:
"Freedom was in the air, as it had been for months…As the great day grew nearer, there was more singing in the slave quarters than usual. It was bolder, had more ring, and lasted later into the night…In company with my mother, brother, and sister, and a large number of other slaves, I went to the master's house. All of our master's family were standing or seated on the veranda of the house, where they could see what was to take place and hear what was said. Some man who seemed to be a stranger (a United States officer, I presume) made a little speech and then read a rather long paper—the Emancipation Proclamation, I think. After the reading we were told that we were all free, and could go when and where we pleased. My mother, who was standing by my side, leaned over and kissed her children, while tears of joy ran down her cheeks. She explained to us what it all meant, that this was the day for which she had been so long praying, but fearing that she would never live to see…The wild rejoicing on the part of the emancipated coloured people lasted but for a brief period…the great responsibility of being free…took possession of them." - Up from Slavery
With freedom, Washington's family moved to Malden, West Virginia, where they lived in a cabin of "poor condition" and worked in the local salt mines. Washington's intellectual curiosity pushed him to learn to read and attend newly-opened school for Black children. He was also inspired by an "intense desire" among freed slaves, young and old, to get an education.
In 1881, Washington was hired as the teacher for a small school in Tuskegee, Alabama. He quickly found ways to raise funds to expand this school into a vocational school that also offered a number of courses in the liberal arts and teacher education. Today, that institution is known as Tuskegee University, one of the leading historically-Black universities in the United States. Through his more than thirty years at the school, Washington was devoted to the cause of Black enfranchisement in a time when Jim Crow laws restricted African Americans' opportunities.
Washington's fame came with an 1895 address at the Atlanta Exposition and the publication of the autobiographical Up from Slavery in 1901. His address illustrated Washington's careful and nuanced approach to Black enfranchisement through education, work, and community stability, contrasting more vigorous approaches of fellow activists like W. E. B. DuBois. Washington's autobiography gave a highly personal account of a life that began with slavery on the Burroughs Plantation, freedom in West Virginia, and educational and entrepreneurial pursuits that carried him to national renown. From his humble start, Washington became a noted educator, orator, and advisor to several American Presidents.
The Booker T. Washington National Monument was designated in April 1956, a century after Washington's birth. It preserves the land where Washington spent formative years in slavery that framed the rest of his life. The plantation left the Burroughs family and passed through several hands until conveyed to a memorial group and then the National Park Service. The Booker T. Washington National Monument includes reconstructed buildings, as slave cabins and the Burroughs house no longer stand. The foundations of these buildings remain, as do historic cemeteries, trails, and trees that date to Washington's time. A museum, interpretive farm, and memorials to Washington also help bring the site to life.
Sources
National Park Service. "A Birthplace That Experienced Slavery, The Civil War and Emancipation." Booker T. Washington National Monument. Last updated March 30, 2015 Accessed November 2017. http://www.nps.gov/bowa/a-birthplace-that-experienced-slavery-the-civil-war-and-emancipation.htm
National Park Service. "Booker T. Washington National Monument." National Register of Historic Places Inventory-Nomination Form. Washington, D.C.: National Park Service, Department of the Interior, 1966. Accessed November 2017. http://www.dhr.Virginia.gov/registers/Counties/Franklin/033-0015_Booker_T._Washington_National_Monument_1966_Final_Nomination.pdf
Washington, Booker T. Up from Slavery. New York: Doubleday, Page & Co., 1906. Google Books. https://books.google.com/books?id=3xQAAAAAYAAJ&printsec=frontcover&dq=up+from+slavery&hl=en&sa=X&ved=0ahUKEwjPs8735-HXAhWDSd8KHQr8DQ4Q6AEIKDAA#v=onepage&q=up%20from%20slavery&f=false
Additional Information