Mill Mountain Star
Introduction
The Mill Mountain Star, also known as the Roanoke Star, was completed in November of 1949. The star was initially sponsored by the Roanoke Merchants Associate to kick off the coming holiday season. Each year people visit the star not only for the history but because of its prime location in Mill Mountain Park.
Images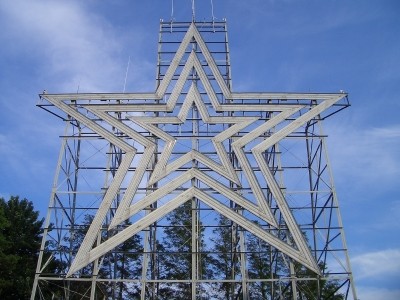 Backstory and Context
The Mill Mountain Star, also known as, The Roanoke Star is the world largest freestanding man made star. It has given Roanoke the nickname of "The Star City" . On November 23, 1949, was when the star was first turned on by Major A.R. Minton. It was sponsored by the Roanoke Merchants Association. The star first started out as a way to kick off the holiday shopping season of 1949. It was originally going to be taken down after the shopping season had ended but they decided to leave it up all year round once it started to become a symbol of Roanoke. The star was originally illuminated in white but it has changed several times throughout the years regarding different occasions.
The Star usually remains white except on three different occasions where the colors were changed. On September 11, 2001 the star was lit up in red, white, and blue as a tribute to the response of the 9/11 attacks. The second time the star changed was from April 22 to May 24 2007 in remembrance of the victims of the Virginia Tech Massacre. The only time the star has not been illuminated was on April 16, 2008, when the star went dark for one evening on the year anniversary of the Virginia Tech Shootings. The star will remain lit in all white except on certain holidays where it will be changed to red, white, and blue as a symbol of patriotism. Memorial Day, Flag Day, July 4, September 11, and Veterans Day are the days it will be lit up red, white, and blue.
The Roanoke Star isn't the the only attraction on top of Mill Mountain. In front of the star is a dramatic overlook that looks down onto downtown Roanoke. There is also Mill Mountain Zoo which is built near the Star on the summit of Mill Mountain which is popular among children. The Roanoke Star is a great place to visit and is a popular place to picnic because of the grand view of the city of Roanoke.
Sources
http://www.playroanoke.com/parks-greenways/mill-mountain-park-2/roanoke-star/
Additional Information