Saratoga Race Course
Introduction
The Saratoga Race Course is the oldest racetrack and sporting venue today. It was Built in August 1863 to bring more tourist and thoroughbred's to Saratoga to boost the economy and give the two men who built the racetrack a place to train their thoroughbreds.
Images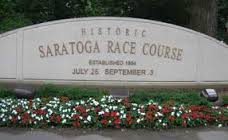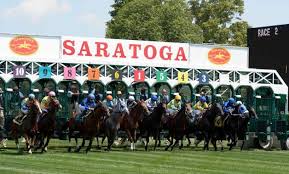 Backstory and Context
The Saratoga Race Course was decided upon two wealthy men who wanted somewhere to race there thoroughbreds on August 3, 1863 (exactly one month after the Battle of Ghettysburg). The current facility where it stands today was built in 1864. John Hunter and William Travers created the track which now stands as the training facility (Oklahoma Training Track) on the north side of the track. It is not only the oldest racetrack in the United States but the oldest sporting venue of any kind. The Saratoga Race Course holds the oldest major thoroughbred's race in America it was once called "The Travers" which now is called "The midsummer Derby" and the winner receives $1 million dollars.
The history goes back to the 14th century when the Aboriginals lived and visited there. The healing waters was he attraction then and remain to be the main attraction today. The village grew in to a town and then to the City Of Saratoga where many wealthy Americans lived and it became a tourist and gambling destination. "The American War Between the States (the Civil War) was little distraction to those who sought refuge from the heat of cities like New York and Boston-the city rocked on, and prospered" (Saratoga Racetrack.com, 2015)
When the track moved to is location today it was originally 4 days long compared to the six week season we have today. Only the best of the best thoroughbred's race here because the course itself id the best of the best. Saratoga inherited the nickname "The Graveyard of Champions" after two Triple Crown Victors lost one top a horse with 100-1 odds.
Sources
Saratoga Racetrack.com. (2015, 3 4). Retrieved from History of the Saratoga Race Course (Saratoga Racetrack): http://www.saratogaracetrack.com/about-horse-racing/track-history.cfm
Additional Information