Maggie L. Walker establishes St. Luke Penny Savings Bank, 1903.
Introduction
The St. Luke Penny Savings Bank in Richmond, Virginia was established in 1903 by Maggie L. Walker, an African-American civil rights activist and educator. Walker was the first woman to establish and head any financial institution at the time. She asked of her community: "Let us put our money together; let us use our money; let us put our money out at usury among ourselves, and reap the benefit ourselves."1 Later part of the Consolidated Bank and Trust, the bank served as the oldest Black-owned and operated savings institution until 2005 when it was absorbed by Premier Financial Bancorp Inc. based in Huntington, WV. The building still stands on 329 N 1st St. in Richmond, the final location of the bank, and operates as Premier Bank: Consolidated Division.
Images
St. Luke's Penny Savings, 1911.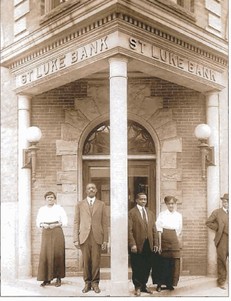 Postcard of the original St. Luke's Penny Savings.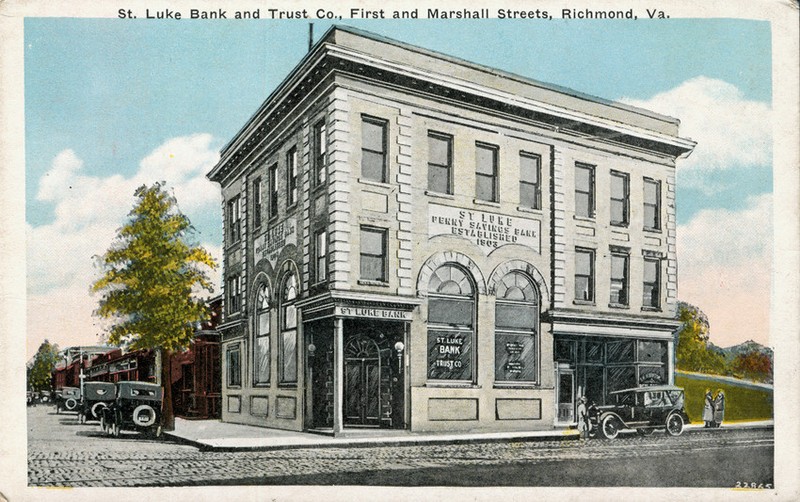 St. Luke Penny Savings Bank soon after it moved to its current location in 1929.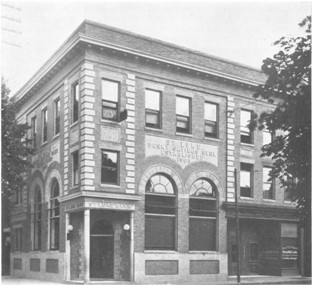 The bank when located on Broad Street.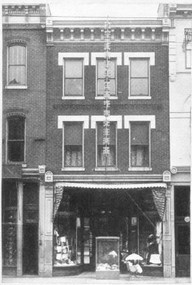 The first headquarters of St. Luke when located on St. James Street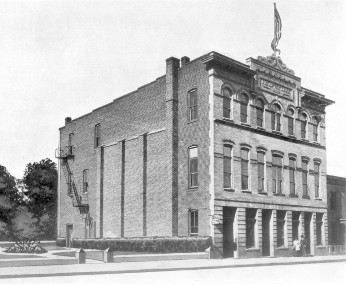 Circa 1910s-1920s photo of the bank's employees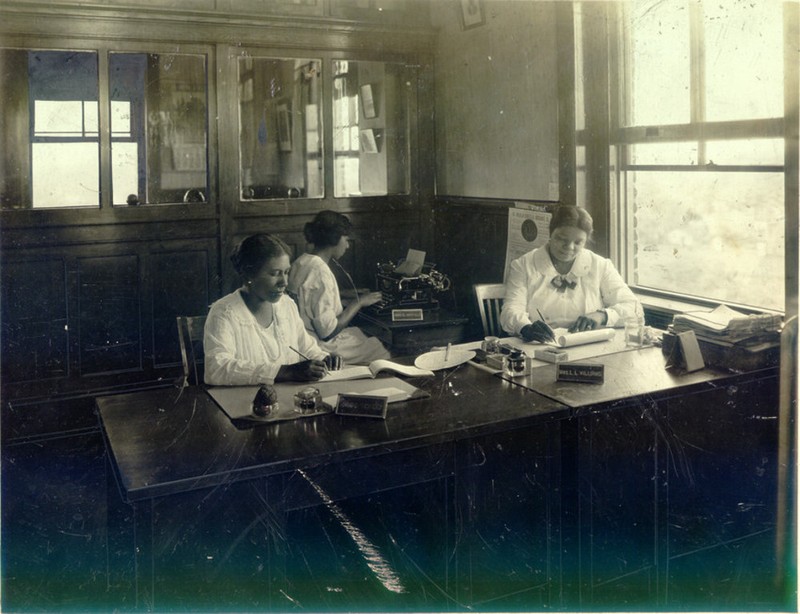 St. Luke Board of Directors in 1901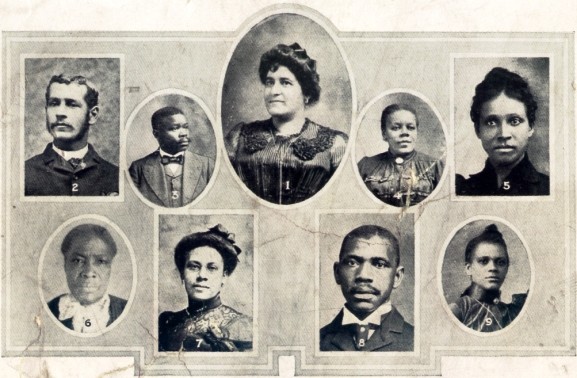 Maggie Walker around 1901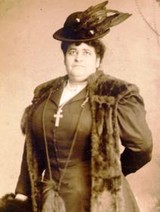 Backstory and Context
The St. Luke Penny Savings Bank was underwritten by the post-bellum Independent Order of St. Luke, an organization that helped pay for funeral and other expenses for low-income and Black community members after the Civil War. The bank's core value was to provide African Americans access to loans for college and entrepreneurial ventures. Maggie Walker's vision, like that of her contemporary civil rights activists, was to keep wealth within the Black community in and around Richmond. After Walker founded St. Luke's in 1903, it steadily increased its deposits. By the time of the stock market crash in 1929, St. Luke's had enough assets to absorb all of the other Black-owned banks around the Richmond area. The resulting merger was named Consolidated Bank and Trust. From that time on it steadily increased its wealth and assets as well as opening seven new branches in Virginia. The bank still rested on its core principle of making loans to lower and middle-class customers.
When Walker opened the bank in 1903, it was located on 199 St. James Street. In 1905, the bank was moved to a new location (112 Broad Street), where more business would be gain. The bank at this location also served as am emporium (store). Unfortunately, in 1910 the bank collapsed due to embezzlement by an employee, unsecured loans and lax operations. Even though this shattered the confidence of most of Richmond's Black population, the bank's Board of Directors approved the measure to reopen, this time at the corner of First and Marshall Streets. When Walker made plans to consolidate her bank with the Second Street Savings Bank and Commercial Bank and Trust in 1929, the bank moved for the final time, this time to it's current location.
In later years, the Consolidated Bank came into financial trouble. Its then-current CEO and President, Vernard William Henley, a highly successful African American and civil rights activist, made some high-risk loans that resulted in defaults that damaged the bank. Two years after Hensley's retirement (with 30 years of service) in 2001, nearly all of Consolidated's branches were closed or sold. Henley's successor, Leon L. Scott, was met by further financial trouble with state and federal regulators for unscrupulous loans made to Mechanicsville, VA investors. In the last year of Consolidated Bank's autonomous structure it recorded a net loss of $4.5 million. The bank was then sold to Abigail Adams, a female-owned bank based in Washington, D.C.; this marked the end of the bank's historic run as the oldest Black-owned savings institution.
The Adams branch kept Consolidated as a subsidiary and thus it retained its original name. Unfortunately, Adams Bank also experienced financial problems not much later and was absorbed by Premier Bank based in West Virginia. Premier quickly absorbed Adams and Consolidated Bank. Now, the original St. Luke's Penny Savings Bank building in Richmond is identified as the "Consolidated Division" of Premier Bank to retain customer familiarity with the branch.
The Maggie Walker National Historic Site in Richmond honors Walker as a pioneering Black businesswoman and civil rights activist.
Sources
1. "St. Luke Penny Savings Bank." Partnership for Progress.

Gray, Madison. "Maggie Walker, Bank on it." Time. January 12, 2007. Accessed April 2018. http://content.time.com/time/specials/packages/article/0,28804,1963424_1963480_1963472,00.html

Harris, Al. "Legacy on the Line." Richmond Biz Sense. August 18, 2009. Accessed April 2018. http://www.richmondbizsense.com/2009/08/18/a-legacy-on-the-line/

National Park Service. "St. Luke's Penny Savings Bank." Maggie Walker National Historic Site. Accessed April 2018. https://www.nps.gov/mawa/the-st-luke-penny-savings-bank.htm
"St. Luke Penny Savings Bank." Partnership for Progress. Federal Reserve. Accessed April 2018. http://www.fedpartnership.gov/minority-banking-timeline/st-luke.cfm

"V.W. Henley, 85, former president of Consolidated Bank." Richmond Free Press. September 5, 2014. Accessed April 2018. http://richmondfreepress.com/news/2014/sep/05/vw-henley-85-former-president-consolidated-bank/

"Walker Leaves Lasting Legacy." Federal Reserve Bank of Richmond. Revised February 2013. Accessed April 2018. http://richmondfed.org/publications/education/maggie_walker/pdf/mwalker.pdf
Additional Information