Robert Morris Statue
Introduction
Robert Morris' statue is situated between the First and Second National Banks, in the Independence National Historical Park, as a reminder of his pivotal role in the Revolution, 1734 - 1806. The monument represents Robert Morris, dressed in great coat and Tricorn hat, struggling through the snow to raise money for Washington's troops at Valley Forge. Robert Morris Jr. (1734-1806) was an American merchant and a signer to the United States Declaration of Independence, the Articles of Confederation, and the United States Constitution. Morris was known as the Financier of the Revolution, because of his role in securing financial assistance for the American side in the Revolutionary War. Ironically, he was sent to debtor's prison in later life.
Images
Robert Morris bronze statue by Paul Wayland Bartlett (1925).
Statue of Robert Morris in the Independence National Historical Park, Philadelphia. Inscription reads "Patriot - Statesman - Financier 1734-1806".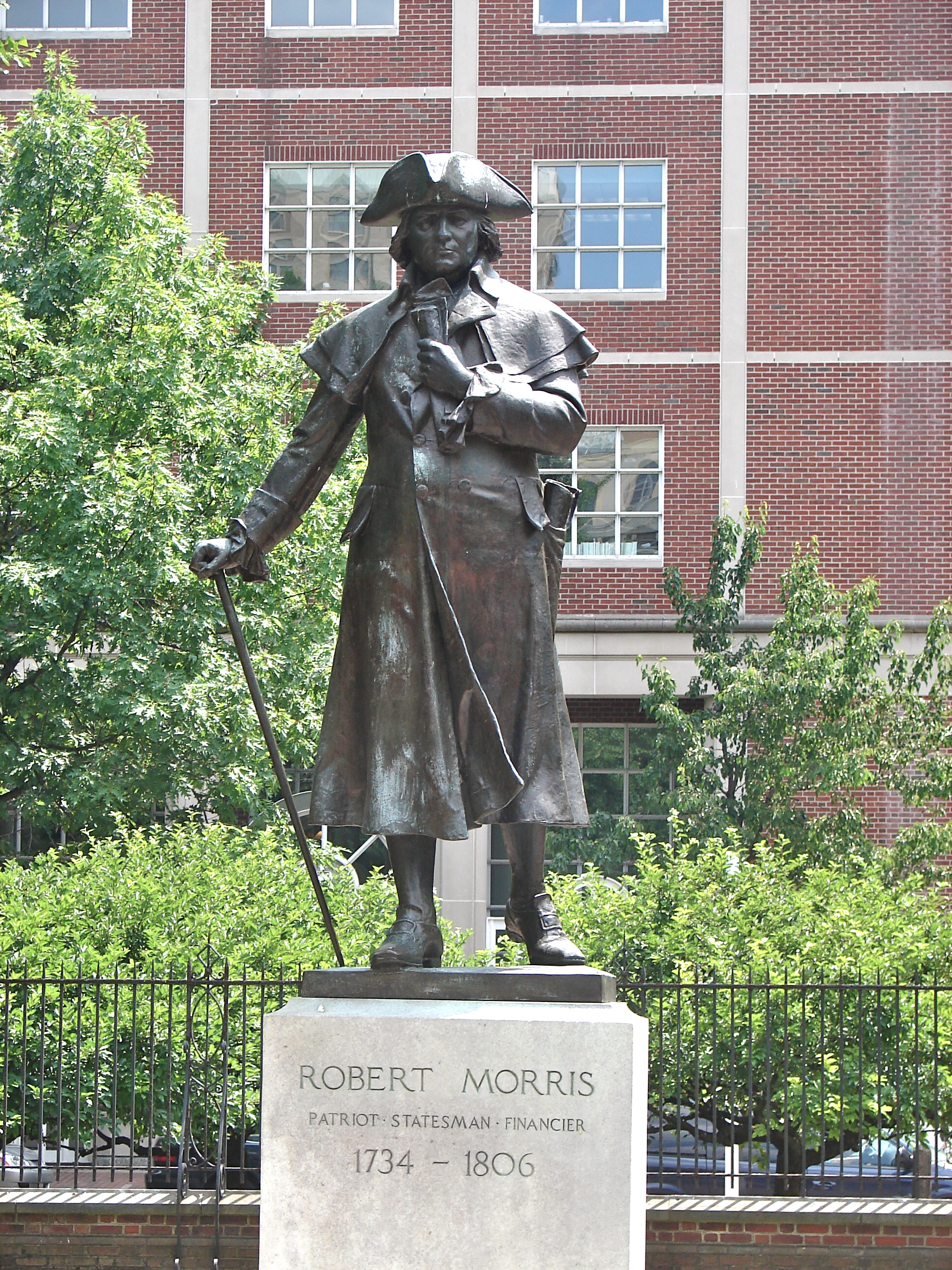 Backstory and Context
Robert Morris' nine-foot bronze statue on a limestone base was sculpted in 1925 by Paul Wayland Bartlett as a commission from the Pennsylvania Bankers Association, the Fairmount Park Commission, and Commonwealth of Pennyslvania. After Limerick Brothers of Baltimore cast the statue of Robert Morris in 1926, it was placed on the Chestnut Street steps of the Second Bank of the United States where it remained until its removal to the current location in 1961.
"Robert Morris (1734-1806), an English-born merchant and statesman, and later one of America's "Founding Fathers". A patriot, he signed the Declaration of Independence, Articles of Confederation, and U.S. Constitution.
An immigrant orphaned at 16, Robert Morris became a partner in a leading Philadelphia mercantile firm, the Willing & Morris Company, by the age of 22. The company traded throughout Europe, America and the West Indies. Like many merchants, their cargo included grain, animal hides, and enslaved Africans.
During the Revolutionary war (1734 – 1806), Morris used his genius for finance and his maritime trading connections to secure vital funds and supplies for the Continental Army. As superintendent for finance (1781-1784), Morris rescued the new nation from financial ruin. He stabilized the economy by creating the first national bank, a model for our modern banking system. As one of the first U.S. senators from Pennsylvania (1789 – 1795), Morris was instrumental in making Philadelphia the temporary capital during the construction of Washington, D.C.
One of the wealthiest men in America, Morris speculated heavily in land. Overextended, he fell into bankruptcy and spent three years in debtors' prison (Walnut Street Prison). Washington did not forget Morris' loyal service and often visited the financier while he was jailed. He lived modestly until his death in 1806, while the new nation he did so much to create prospered and grew.
Sources
http://www.nps.gov/inde/planyourvisit/plaques-and-statues-in-the-park.htm http://pdfhost.focus.nps.gov/docs/NRHP/Text/66000683.pdf http://www.philadelphiafaithandfreedom.com/robertmorrisstatue http://www.ea.sinica.edu.tw/eu_file/12014203724.pdf
Additional Information