Longaberger Homestead and Museum (1976-2016)
Introduction
In 1919, J.W. Longaberger began working as an apprentice at the Dresden Basket Factory. Longaberger not only worked hard to learn his new craft, he also instructed his children. His son Dave took what his father taught him and set out on a career journey that resulted in the creation of the Longaberger Company in the 1970s. For many years, the company operated a museum within their headquarters and factory that was located here and designed in the shape of one of their famous baskets. The Longaberger company was able to buck most of the trends that saw their competitors and the makers of other hand-designed products close, and as late as 2000, the company employed eight thousand including many in this area. The company announced the closure of this facility in 2016. Prior to that time, the museum which provided tours through the factory that included visits with workers and the opportunity to watch each stage of basket weaving--both up close and from the top of their central atrium that looks down on the production floor. The museum also included numerous exhibits about basket weaving and the company's history, along with multi-media and a short film. The building was purchased by a Conaton Ohio developer in 2017.
Images
The Longaberger Company operates a museum in this building that has been designed to resemble one of their signature baskets.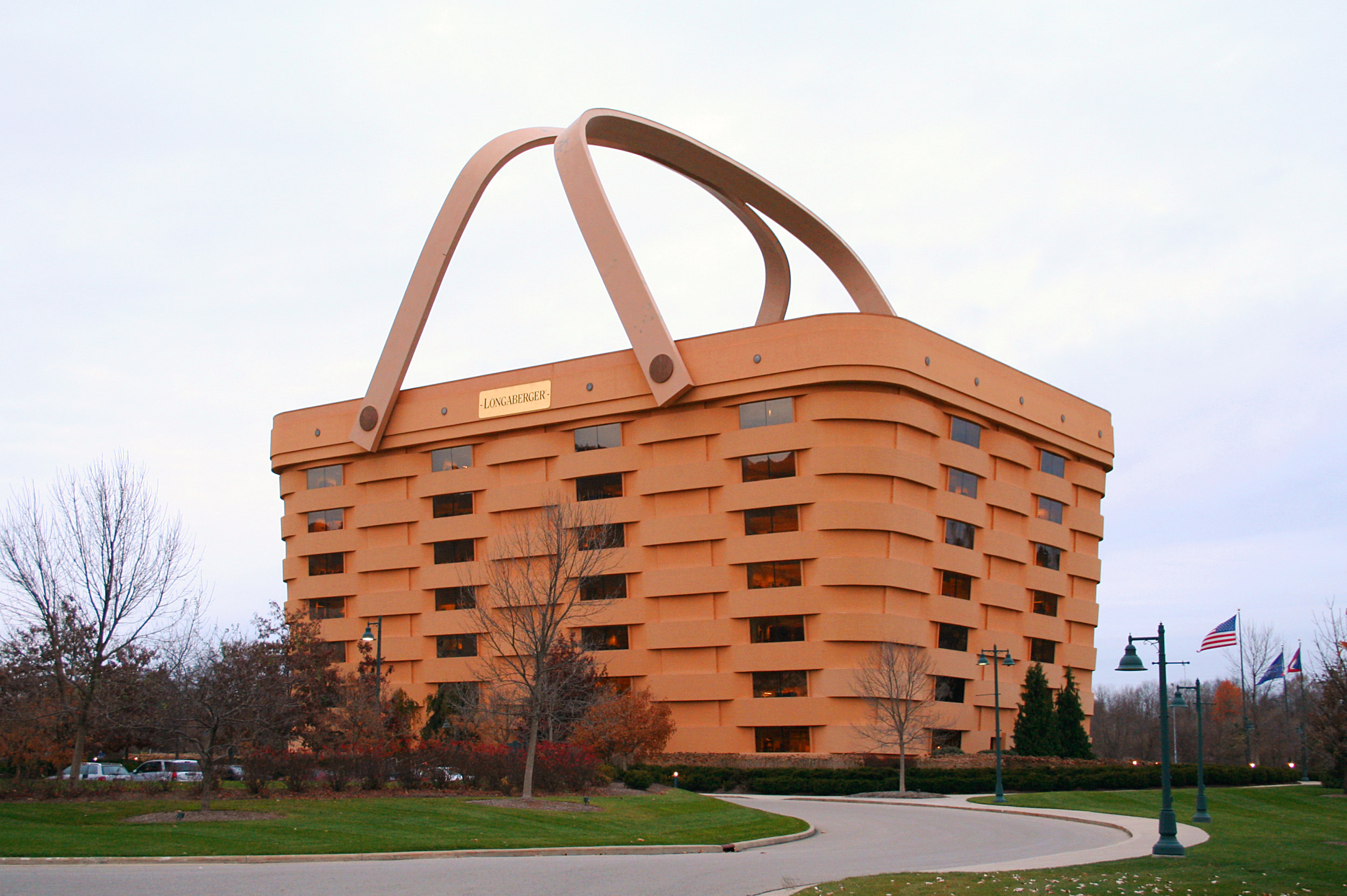 Backstory and Context
After graduating high school, Dave Longaberger worked at a variety of jobs to support his family. These positions varied from driving a bread truck to joining the United States Army. After the birth of Dave's first daughter, in the early 1960s, he decided that he wanted to find a way to begin applying everything that he had taught from his father and apply it towards his own business.
During the 1970s, Dave took notice that the popularity of baskets began to grow. He thought back to the creativity and originality of the baskets his father handmade in the past. This made him ask his father to make some baskets. J.W. made a dozen baskets and gave them to Dave. He then took the baskets to the neighboring town and sold them to a small shop. The shop sold the baskets immediately and demanded more.

J.W. Longaberger passed away when he was 71 years old. In memory of his father, Dave opened J.W.'s Handwoven Baskets in Dresden, Ohio in 1976. At this point, the love for the handcrafted baskets grew even more, to the point that Dave decided that he needed to find a place to expand his business. Dave found a building that had been abandoned for some time. As soon as he walked into the building he couldn't help but invasion a basket factory filled with many talented craftsmen living up to his deceased father's work.

When it came to selling handcrafted baskets, Dave tried a variety of different tactics. After a few rounds of trail and error, Dave realized that the traditional retail way of selling did not work for the baskets. He chose to try in house parties. There would be an educated Longaberger consultant that would enlighten guests about the handcrafted baskets. At this point, Longaberger's direct company sales was created.

After she graduated college, Tami, Dave's daughter, began working for the company. She learned her father's tactics first hand and made modifications that bettered them for more modern day business.
Sources
http://www.longaberger.com/about-longaberger/
Additional Information