Alice in Wonderland Statue
Introduction
Central Park's Alice in Wonderland statue is the creation of sculptor Jose de Creeft and located next to Conservatory Water. Philanthropist George Delacorte contributed this statue to the city and dedicated it to the memory of his Margarita. Delacorte chose this design as a gift to the children of New York City. The statue includes a variety of characters from Lewis Carroll's Alice in Wonderland, a book that was first published in 1862 but continues to engage the curiosity and wonderment in children of all ages.
Images
Alice in Wonderland was built in 1959 by sculptor José de Creeft and gifted by philanthropist George Delacorte.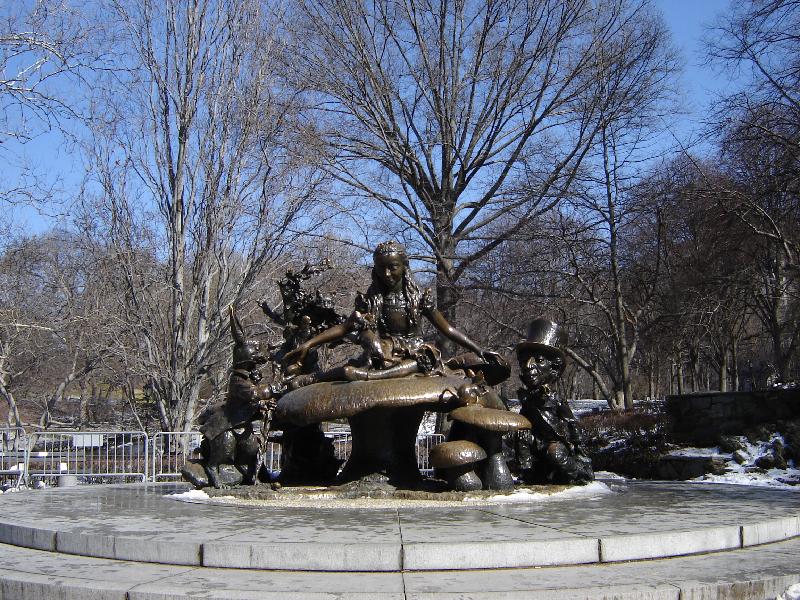 Children are encouraged to touch, and even climb on the statue.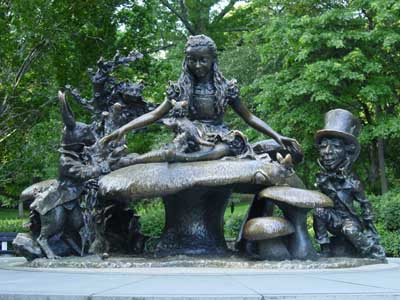 Backstory and Context
This statue was designed with the unique characters of the classic Alice in Wonderland. George Delacorte wanted to make it possible for the children of New York City to explore the wonders of the adventurous, imaginative story. This sculpture is different than most. Normally, today's youth are told countless times to not touch works of art. Delacorte wanted the opposite effect with this masterpiece. He wanted to invite children to climb upon the statue, while touching it and examining it, with hopes of making their imaginations reach great lengths.

The most popular characters of Lewis Carroll's classic were sculpted within the 11-foot-tall bronze statue. The characters included the Mad Hatter, the Cheshire Cat, the Dormouse, along with the March Hare. Those four-story icons are balanced around the central element of Alice. This design of Alice was actually based off of the sculptor Jose de Creeft's daughter.

Around the statue, there are seven different phrases. Most are quotes from the story, but one of the engraved plaques says, "Alice in Wonderland. In memory of my wife. Margarita Delacorte. Who Loved All Children. GTD. Margarita Delacorte Memorial."
This memorial has served its purpose for many years in the Big Apple. It has even been used as settings in popular movies, such as, 'Remember Me'.
Sources
"Alice in Wonderland - History." New York City Parks. Accessed February 15, 2015. http://www.nycgovparks.org/parks/central-park/monuments/13.

"Alice in Wonderland." CentralPark.com. Accessed February 15, 2015. http://www.centralpark.com/guide/attractions/alice-in-wonderland.html.
Additional Information