Eakins Oval
Introduction
Eakins Oval is a traffic circle in Philadelphia. It forms the northwest end of the Benjamin Franklin Parkway just in front of the Philadelphia Museum of Art, with a central array of fountains and monuments, and a network of pedestrian walkways. Philadelphia Parks & Recreation, in partnership with the Fairmount Park Conservancy, revealed the City of Philadelphia's new "Park on the Parkway" in July 2013. The eight acres of public space located on the Benjamin Franklin Parkway known as Philadelphia's own "Avenue des Champs-Élysées," Eakins Oval (2451 Benjamin Franklin Parkway) became The Oval, a park with community programming, events and activities.
Images
The Washington Monument, sculpted by Rudolf Siemering, in Eakins Oval, just in front of the stairs of the Philadelphia Museum of Art, Philadelphia.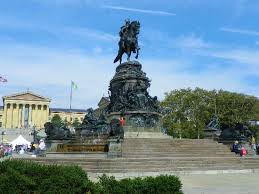 Eakins Oval traffic circle.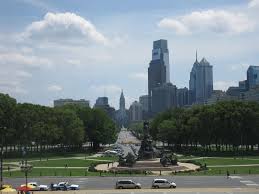 The Oval offers a wide array of activities and amenities, and features park spaces that all ages can easily access and enjoy.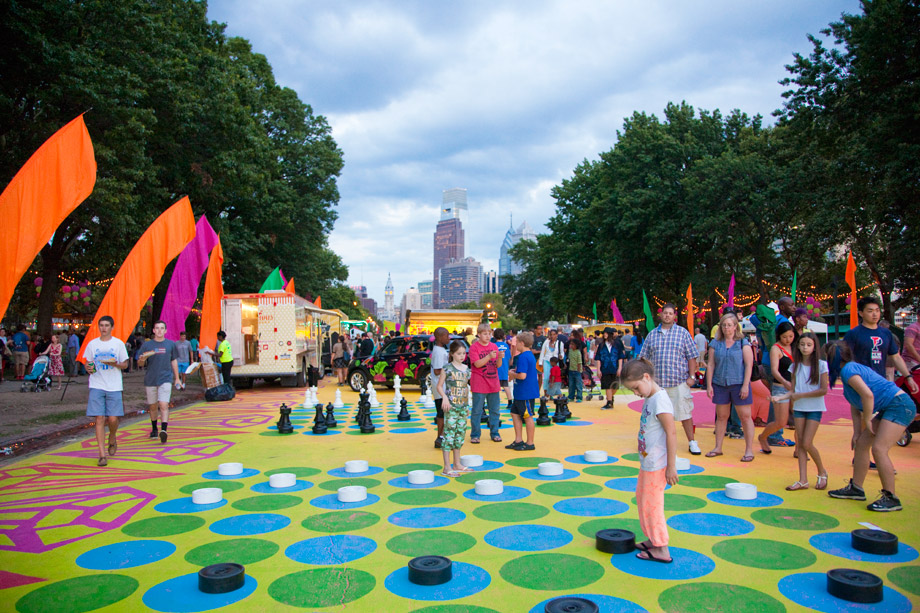 Backstory and Context
Seated on the Benjamin Franklin Parkway, directly in front of the majestic main building of the Philadelphia Museum of Art, Eakins Oval is named for famed Philadelphia painter Thomas Eakins (1844-1916). He attended the Pennsylvania Academy of Fine Arts and later went to Jefferson Medical College to study anatomy. He taught anatomy and painting at the Pennsylvania Academy of Fine Arts.
During the time of the Parkway's construction, Eakins was considered a controversial artist because of his style of realism. Perhaps best known for his masterpiece, The Gross Clinic, Eakins' namesake plaza features three fountains, the centerpiece being a sculpture dedicated to George Washington. The four figures and the animals overlooking the pools at the base represent four great waterways of America — the Mississippi, the Potomac, the Delaware and the Hudson.
The physical design and roadway configuration of Eakins Oval has changed significantly since the original Gréber design. The Oval was originally a true oval with tight radii that slowed traffic and maintained a symmetrical plan. In 1957, the "Traffic Plan for the 37 CBD" was published by Wilbur Smith & Associates and provided the basis for the design of Eakins Oval as it is known today. By stretching the oval and smoothing curves, the new design essentially became a high-speed traffic circle whose byproduct was a disorganized public space with a surface parking lot in the center.
Since 2013 "The Oval", a park with community programing, events and activities was founded at Eakins Oval - at the center of the Ben Franklin Parkway.The Oval is a seasonal pop-up outdoor public space that transforms an island of asphalt and surrounding lawns at 24th Street and the Parkway into an eight-acre public space devoted to family-friendly fun. Located within walking distance from Parkway's cultural attractions, including the Philadelphia Museum of Art, The Barnes Foundation and The Franklin Institute, the Oval is a pedestrian friendly urban oasis.
Sources
http://en.wikipedia.org/wiki/Eakins_Oval http://www.phila.gov/parksandrecreation/programsandactivities/pages/theoval.aspx http://www.parkwaymuseumsdistrictphiladelphia.org/SiteData/docs/Reconfigur/35fdee94712123a2/Reconfiguring%20Key%20Intersections%20-%20final.pdf http://www.vectorworks.net/LRSLA/LRSLAstudio_case_study.pdf
Additional Information