Monticello
Introduction
Monticello was the home of Thomas Jefferson, the third President of the United States, and is located just outside of Charlottesville, Virginia. Jefferson inherited the land from his father and began building the mansion on this plantation when he was just twenty-six years old. At this time, the plantation included 5,000 acres and used slave labor to produce tobacco and other crops. Today, Monticello is a leading tourist destination and a place that preserves and shares the history of Thomas Jefferson and his role in the founding of the country. Monticello is listed on the United Nations Educational, Scientific and Cultural Organization (UNESCO) list of World Heritage Sites.
Images
Jefferson designed the house to resemble the work of Andrea Palladio, an Italian Renaissance architect. Monticello is Italian for "little mount."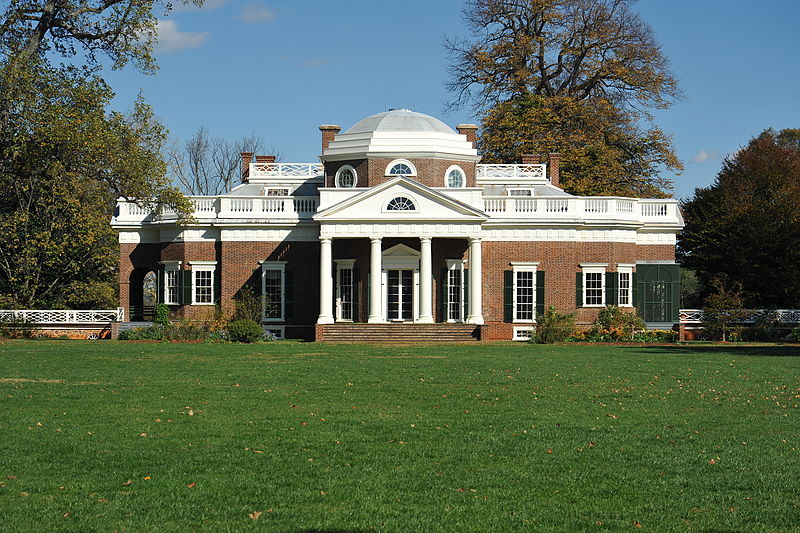 A rare picture from inside Monticello. The historic mansion is visited by over 500,000 people each year.

An ariel view of the Monticello land.

Thomas Jefferson Gravesite on Monticello's grounds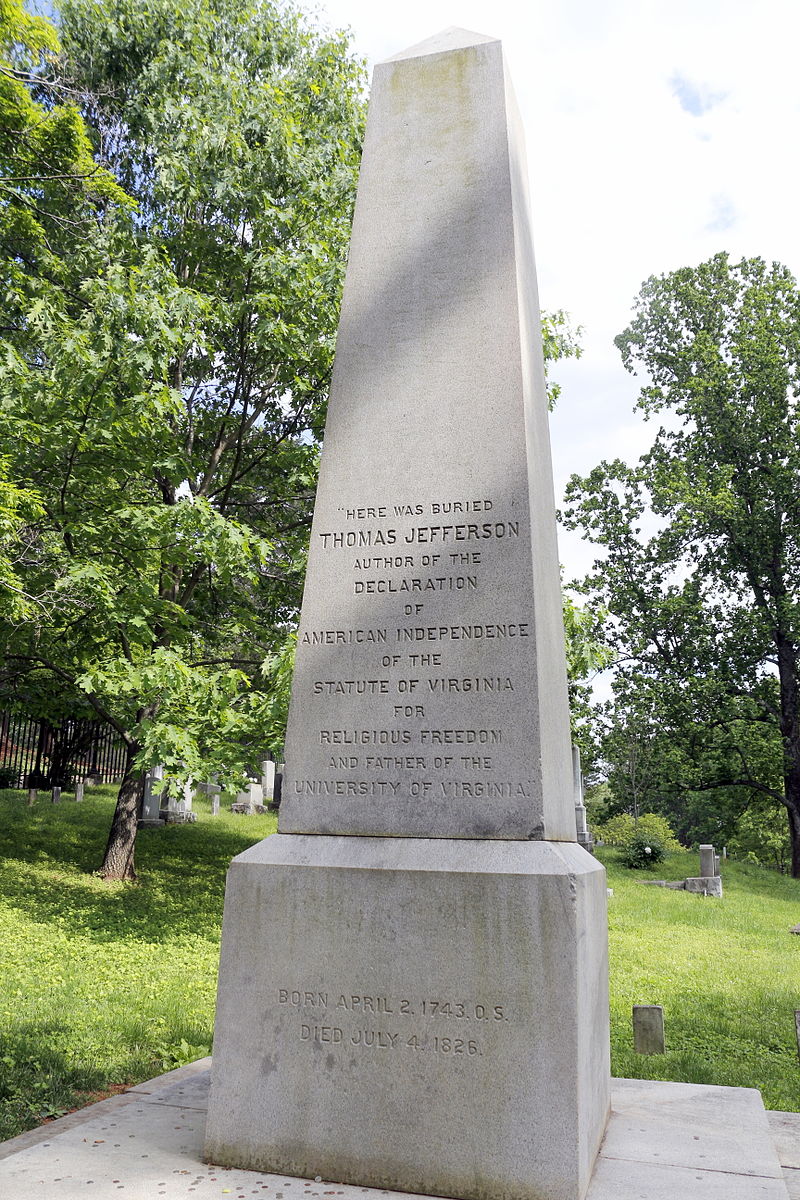 Birdseye view of Monticello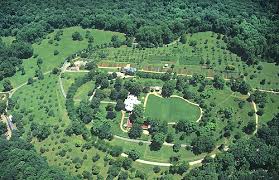 Thomas Jefferson's first sketch of Monticello. Courtesy of the Library of Congress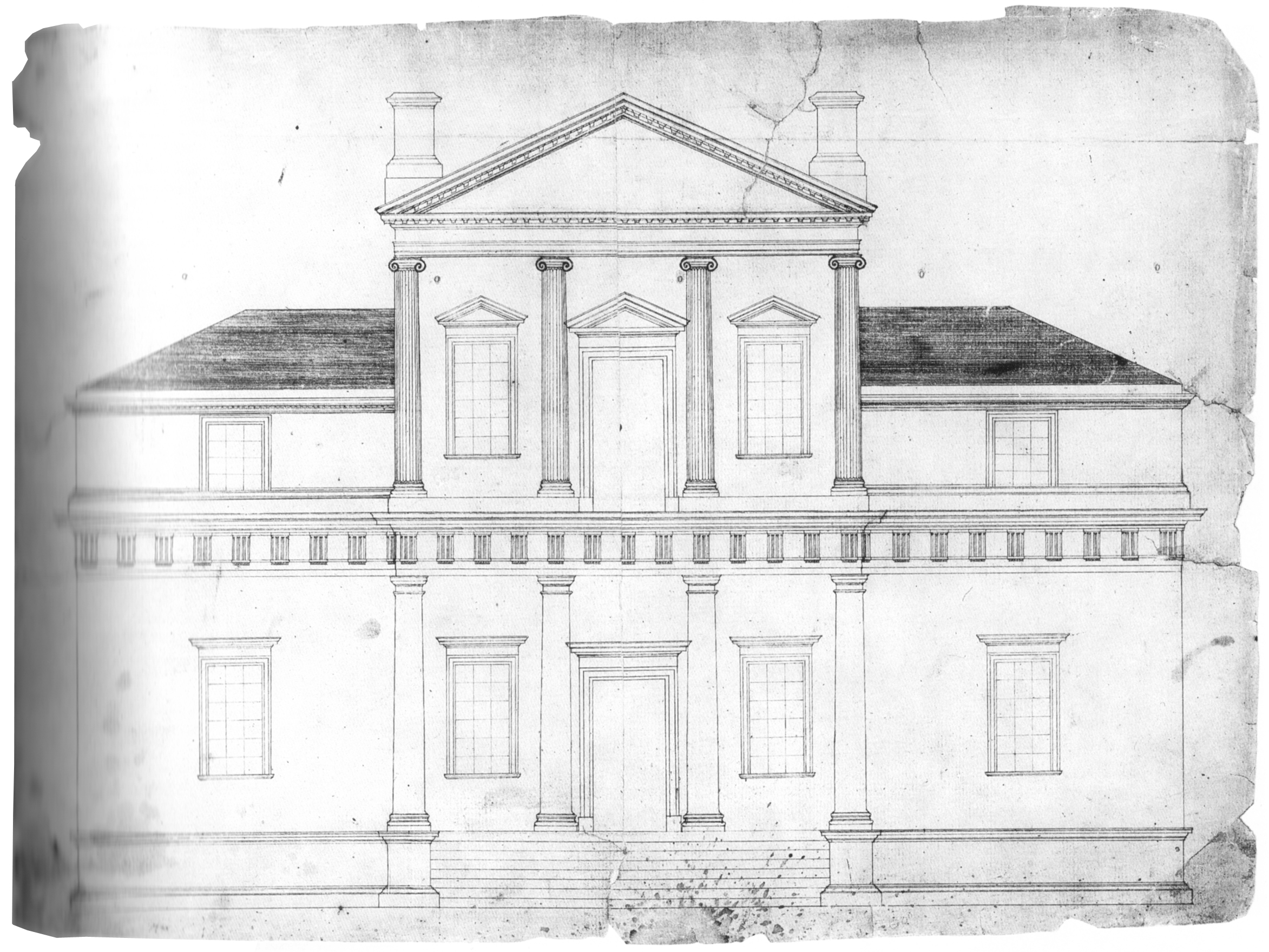 Monticello's Grand Staircase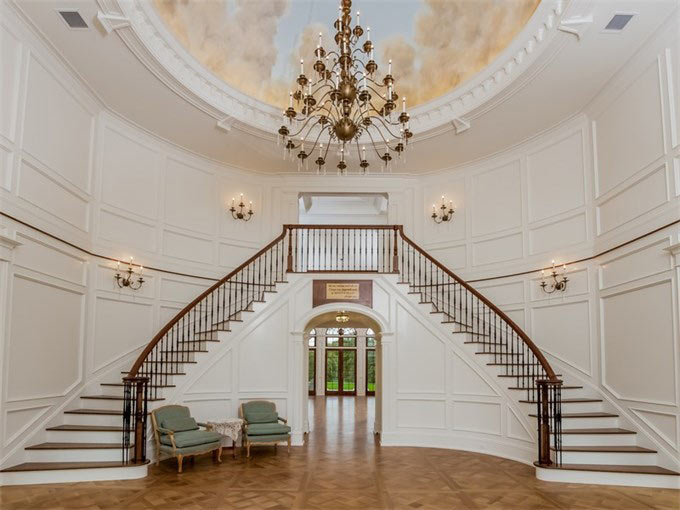 Backstory and Context
Monticello's structure and design were started in 1772 and was the plantation where Thomas Jefferson spent most of his time after inheriting the land from his father at age twenty-six. Jefferson had spent time in Europe to learn about both classic and modern architecture. After being inspired by Italian architecture, Jefferson designed his home. The first striking feature is the octagonal dome which is located in the center of the building. The actual dome itself hardly ever used because of the steep staircase and unusual temperatures. Throughout the property are numerous outbuildings for projects, gardening, farming, and a wine cellar. The gardens at Monticello were made for presentation, as a source of food, and used for crop experimentation. Slave cabins were built away from the cabin on Mulberry Row, which is still present today.
Mulberry Row was positioned approximately three hundred feet away from the Monticello home. It is a one thousand foot road that includes slaves, their living quarters, and outbuildings. The slave cabins faced Monticello and were occupied by those who worked in the home or his manufacturing venues but not those who worked in the fields. An outdoor exhibit was opened in February 2012 which displayed the lives of the hundreds of slaves who worked and lived on the property. There was an exhibit like this one shown at the Smithsonian various times throughout the year and is the first exhibit to reach national importance dealing with slave issues.
On July 4, 1826, Thomas Jefferson died and his plantation was left to his only living child, Martha Jefferson Randolph. For almost one hundred years the house was bought and sold by various people due to debt and war. Finally, in 1923 the last owner, Jefferson Levy, sold the house to a non-profit organization, The Jefferson Foundation. Since then the plantation has been restored and given modern conveniences. The Thomas Jefferson Foundation has made the plantation into a house museum and an educational institution. The tours include the cellar and the first floor of the home. However, the second and third floor are off limits to the general public because of fire code restrictions.
Mulberry Row was home to five log dwellings that housed slaves. These slaves were mostly female household servants. The log cabins ranged from 12' x14' to 12'x20 1/2. They consisted of Earth floors and wooden chimneys. Not all of Jefferson's slaves were housed on Mulberry Row, a few of them lived in basement-level dependency wings of Monticello.

Jefferson created a study which was most likely the environment where he did most of his studying and come up with his best ideas. The study was known to have green walls and a coordinating floral border. He used this study for reading, writing, scientific observation and more.
Monticello was also home to many gardens, two orchards, two small neighboring vineyards, and an area called berry squares. Jefferson was very interested in grape culture and made it a point to add it to Monticello. He planted both European and American grapes, as well as his favorite trees and shrubs. Jefferson grew 330 varieties of more than 70 different species of vegetables. Monticello is home to 1,000-foot long garden served its purpose of food and experiment.
Sources
"Plantation and Slavery." Monticello. Accessed May 30, 2018. https://www.monticello.org/site/plantation-and-slavery.

"Thomas Jefferson." Monticello. Accessed July 2018. https://www.monticello.org/site/jefferson?_ga=2.108032450.1939226675.1530623161-2105216922.146133388...


Additional Information