Dale Earnhardt Sr Statue
Introduction
Dale Earnhardt is widely regarded as one of the greatest NASCAR drivers of all time. Earnhardt lost his life in February 18, 2001, while competing in the Daytona 500. The statue of Dale Earnhardt Sr. is in his hometown of Kannapolis, NC. The 9ft tall 900-pound bronze statue, sculpted by Clyde Ross Morgan, was debuted in 2002, a year after Earnhardt's death. The statue perfectly portrays the "working man's driver" in his Wrangler jeans and cowboy boots. Costing upwards of around $200,000 the statue reads on the left plaque, "Honoring Our / Hometown Hero / City of Kannapolis," and on the right you can see transcribed, "In Loving Memory / Gerald L. Moore / Wesley A. Moore."
Images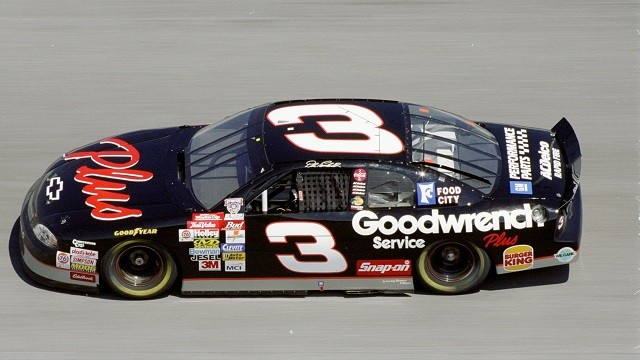 Dale Earnhardt Sr. Statue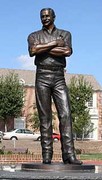 Backstory and Context
The tragic death of Dale Earnhardt Sr. was felt all across the world. During the last lap of the Daytona 500 Earnhardt was bumped from behind which caused a head on collision with the wall in turn four. Simultaneously, Michael Waltrip and his son Dale Earnhardt Jr. raced for the win. They were both members of Dale Earnhardt Racing and finished first and second respectively. Dale Earnhardt was pronounced dead at Halifax Medical Center soon after the race was over. Understandably, it was a huge loss in the NASCAR community. People were looking for reasons to blame the sport or anyone they could get their hands on for taking one of NASCAR's toughest drivers, known as "The Intimidator" and earlier in his career as "Iron head", from the sport. They blamed other drivers for triggering the wreck and some accused the not up to date seat-belts. The best thing NASCAR did after his death was to start making necessary changes to the sport and put safety at the top of the priorities list to make sure this did not happen again.

NASCAR then began many safety studies and never had a wreck at one of their Speedways that had been evaluated and scrutinized so intensely. The organization quickly made a head and neck restraint device, also known as the HANS device, mandatory and have taken many more steps since Earnhardt's death to make the sport much safer. One of the most notable innovations are the softer walls that surround the tracks. Even in his death, Dale Earnhardt's impact on the sport still goes on.
Dale Earnhardt across his whole career finished with 76 wins and 7 Winston Cup Championships, the championships tied Richard Petty and Jimmy Johnson for the most. He was known for his hard-driving style. He was also known for his common-man way of life off the track. He represented the working man which was why his popularity was so immense. His fans could all relate to him.
Dale Earnhardt was arguably the greatest race car driver of all time. He could be considered one of the most popular NASCAR personalities of all time thanks to his polarizing smile and up beat attitude which made him the perfect face of NASCAR. Many regard Earnhardt as one of the most feared drivers of all time, considering his race style and risks he would take on the track to always ensure a win. His hometown of Kannapolis, North Carolina has a lot to offer when it comes to their hometown hero. Although Dale Earnhardt Sr. was not just a hero in Kannapolis, he was a hero all across the country.
Sources
https://www.visitnc.com/listing/dale-earnhardt-tribute-plaza
http://www.roadsideamerica.com/story/21209#sthash.YVCQohos.dpuf.
Commemorative Landscapes of North Carolina. docsouth.unc.edu. 4/28/17. http://docsouth.unc.edu/commland/monument/69/.


Additional Information