Freeman Farm
Introduction
Listed on the National Register of Historic Places, this historic farm was established in ca. 1850 by William Franklin Freeman. It featured a Blacksmith shop, an ice-house, cotton gin, syrup mill, smokehouse, and chicken house. Several of these buildings are still standing today. The main farmhouse was built in 1854 in the Greek Revival style and retains much of its original appearance. The farm is significant because it is one of the few from the 19th century remaining in the county, and as such serves an important link to the area's agricultural history.
Images
The farmhouse was built in 1854 in the Greek Revival style.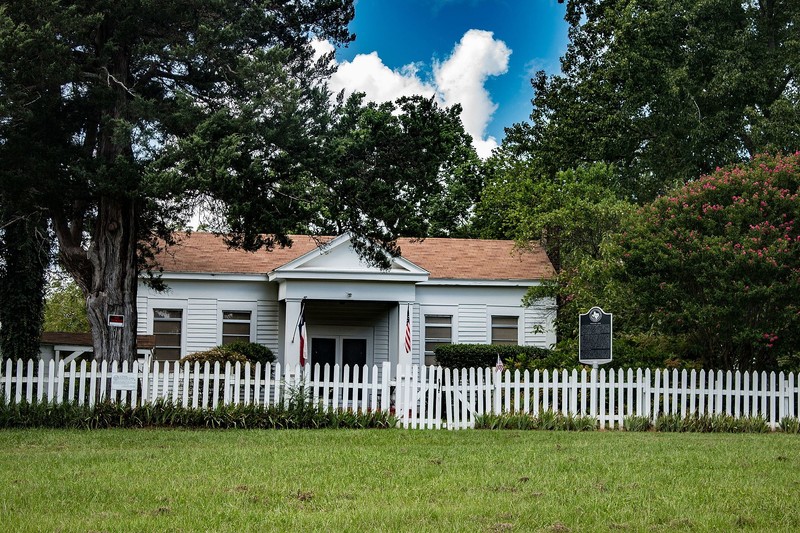 Backstory and Context
William Franklin Freeman was born in Alabama in 1827. He married his wife Elizabeth Ann Davis in 1846. In 1849, after they had their first child, they decided to move here to establish a farm and raise a family.

The Freemans owned a number of slaves to operate the farm which gradually grew in size to 3,000 acres. The cotton gin was especially advantageous, as it brought in even more business from other farmers in the area (this would change after the railroads bypassed Kickapoo). They even made their own clothes and shoes from the cotton gin.

Freeman also took on other positions in addition to farming. He became the Postmaster for Kickapoo and operated the post office out of the farmhouse. He served as the County Commissioner in 1876, helping plan the building of infrastructure and overseeing the partition of land, among other tasks. Freeman would later become president of Kickapoo College.

In 1892, he died at the age of 65. However, his second wife Bethena Oldham continued to manage and run the farm until she died in 1904. His son George then took over. As of mid-2017, it appears that family descendants continue to operate the farm today.

Sources
Camp, Joyce Freeman, et al. "Freeman Farm." National Park Service - National Register of Historic Places Nomination Form. June 12, 2000. https://atlas.thc.state.tx.us/NR/pdfs/00000656/00000656.pdf.

"Kickapoo, Texas." HistoricTexas.net. Accessed February 11, 2015. http://www3.historictexas.net/anderson-county/kickapoo-texas.

Photo: Renelibrary, via Wikimedia Commons
https://en.wikipedia.org/wiki/National_Register_of_Historic_Places_listings_in_Anderson_County,_Texa...