Gilmore Stadium
Introduction
Built in 1934, Gilmore Stadium hosted many sporting events including football, midget car racing, rodeos, and boxing matches. Built by Earl Gilmore, the son of the company's founder AF Gilmore, on the property owned the Gilmore Oil Company. Gilmore Stadium became the home of Loyola University football and several professional football teams. The stadium also hosted movies and presidential addresses.
Images
Aerial view of Gilmore Stadium. Select satellite view and zoom in on map to see relation to CBS Television City.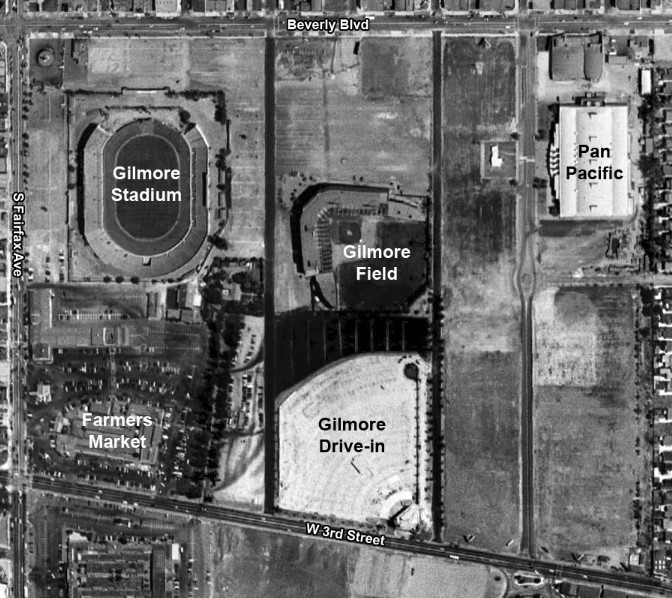 View of Gilmore Stadium scoreboard. Scene from a Three Stooges movie. Three Little Pigskins.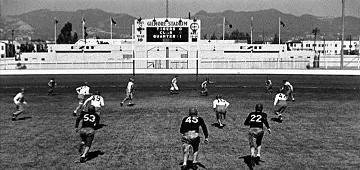 Aerial view with good view of midget car race track in Gilmore Stadium.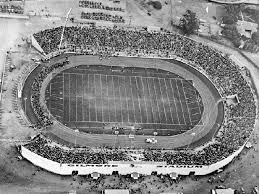 Kenny Washington, Woody Strode, and Jackie Robinson at UCLA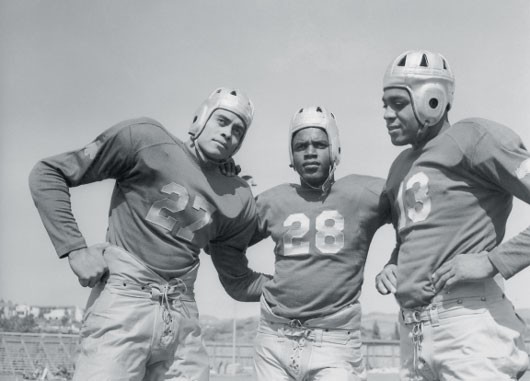 Program for Midget Car races at Gilmore Stadium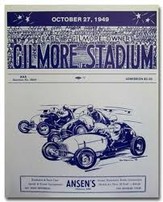 1941 Fresno Bee article announcing a Los Angeles Bulldogs vs Hollywood Bears game.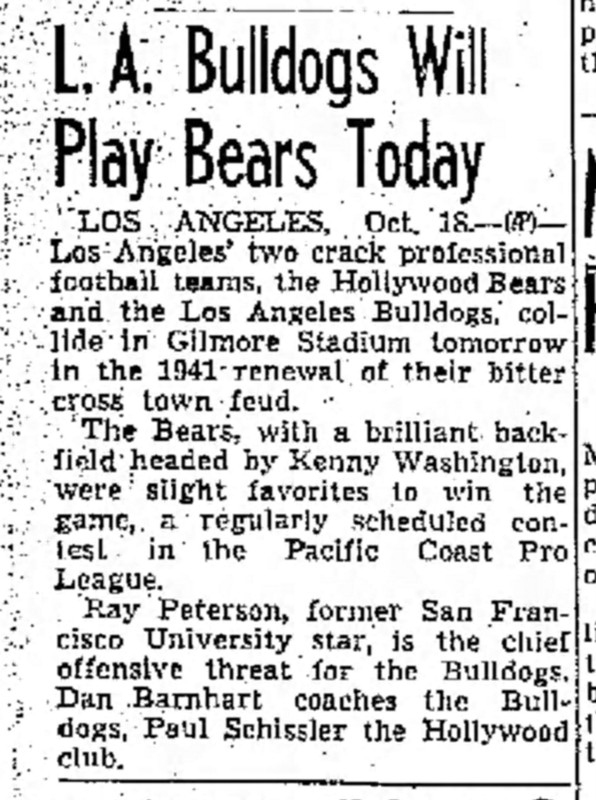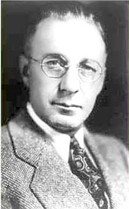 Midget cars racing at Gilmore Stadium in the 1940s
Backstory and Context
The Gilmore Oil Company formed after oil was discovered on the dairy farm of Arthur F. Gilmore. Earl Gilmore, Arthur's son, became the company's president in 1918.1 Earl Gilmore built Gilmore Stadium which opened in 1934.2 Gilmore Stadium served the home field for Loyola University football.3 The Stadium was also the home field for the Los Angeles Bulldogs, a team that competed in several different leagues. Beginning as an independent team, the Bulldogs joined the second American Football League for one year in 1937. The Bulldogs joined the American Professional Football Association in 1939.4 A professional team called the Los Angeles Bulldogs competed in the Pacific Coast Football League at a time when the National Football League did not allow Black players. Jackie Robinson played for the Bulldogs briefly in 1941. Kenny Washington and Lenny Strode, two of Robinson's teammates at U.C.L.A. played for the Hollywood Bears that year. The Bears won the league title that year. Jackie Robinson went on to break the color barrier in baseball while Washington and Strode would sign with the Los Angeles Rams , breaking the color barrier in the National Football League.5 Gilmore Stadium also hosted NFL All-Star Games for the 1939 and 1940 seasons.6
Football was not the only sport hosted by Gilmore Stadium. Midget Car racing at the stadium was extremely popular. Auto Sports was a natural fit for an oil company and Gilmore Stadium proved to be a primary venue. Many of auto sports top names competed at Gilmore Stadium including Bill Vukovich, Walt Faulkner, Perry Grimm, and Roger Ward. At least five drivers died while racing at the stadium. Midget car races frequently filled the stadium to its capacity of 18,000 spectators.7
Other events held at the stadium included aquatic shows, baseball, boxing, and cricket. Harry Truman delivered his "Stiff Upper Lip" at Gilmore Stadium.8 The stadium was also the setting for the Three Stooges movie "Three Little Pigskin's". 9 The stadium would experience a decline in the late 1940's and eventually closed in 1950. The Hollywood Stars minor league baseball team of the Pacific Coast League played at Gilmore Stadium in 1939 while Gilmore Field, which was located next to Gilmore Stadium, was under construction. In 1947 actress Katharine Hepburn delivered a speech in support of the Progressive Party's presidential candidate Henry A. Wallace. The stadium was demolished in 195110 and the site later became a parking lot for CBS television city.
Sources
1. "Gilmore Station", Los Angeles Shopping, 2013, Accessed March 5, 2015, http://www.gilmorestation.com/history/ 2. "Gilmore Stadium", 2014 World Heritage Encyclopedia, Accessed March 5, 2015, http://www.worldheritage.org/article/WHEBN0004231424/Stadium 3. Duke Dukesherer, "The Mighty Men of Del-Rey Loyola University Football", South Bay Examiner", September 30, 2009, Accessed March 5, 2015. http://www.examiner.com/article/the-mighty-men-of-del-rey-loyola-university-football 4. "Gilmore Stadium", 2014 World Heritage Encyclopedia... 5. Jason Lewis, "Los Angeles' Long and Rich History of Black Professional Football Players", Los Angeles Sentinel", August 11, 2011, Accessed March 5, 2015. http://www.lasentinel.net/index.php?option=com_content&view=article&id=1821:los-angeles-long-and-rich-history-of-Black-professional-football-players&catid=110&Itemid=200 6. "Gilmore Stadium", 2014 World Heritage Encyclopedia... 7. "Southern California Midget Racing and Gilmore Stadium", The Old Motor, October 9, 2014, Accessed March 5, 2015. http://theoldmotor.com/?p=129197 8. Harry S. Truman: "Address at the Gilmore Stadium in Los Angeles.," September 23, 1948. Online by Gerhard Peters and John T. Woolley, The American Presidency Project. http://www.presidency.ucsb.edu/ws/?pid=13012. 9. "Gilmore Stadium", 2014 World Heritage Encyclopedia... 10 "Gilmore Stadium" 2014 World Heritage Encyclopedia...
Additional Information