Audubon Ballroom; Malcolm X and Dr. Betty Shabazz Memorial and Education Center
Introduction
The Audubon Ballroom was constructed in 1912 by William Fox, the movie producer who created the company that grew into 20th Century Fox. The Audubon Ballroom was home to a variety of theatrical performances over the years as well as meetings by area labor unions and immigrant groups. The ballrooms is most famous as the site where civil rights leader Malcolm X was shot and killed on February 21, 1965 while speaking at a rally of his new organization, the Organization of Afro-American Unity. The Audubon Ballroom was saved from demolition by the actions of preservationists, local residents, Columbia University students, and Malcolm X's widow Betty Shabazz. The building is now the Malcolm X and Dr. Betty Shabazz Memorial and Education Center.
Images
Audubon Ballroom in 2014 photo (Beyond My Ken)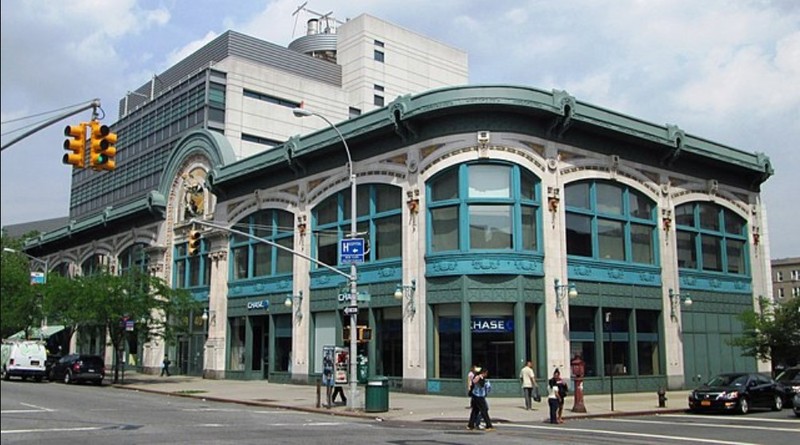 The Audubon Ballroom is most famous as the site where Malcolm X was killed on February 21, 1965.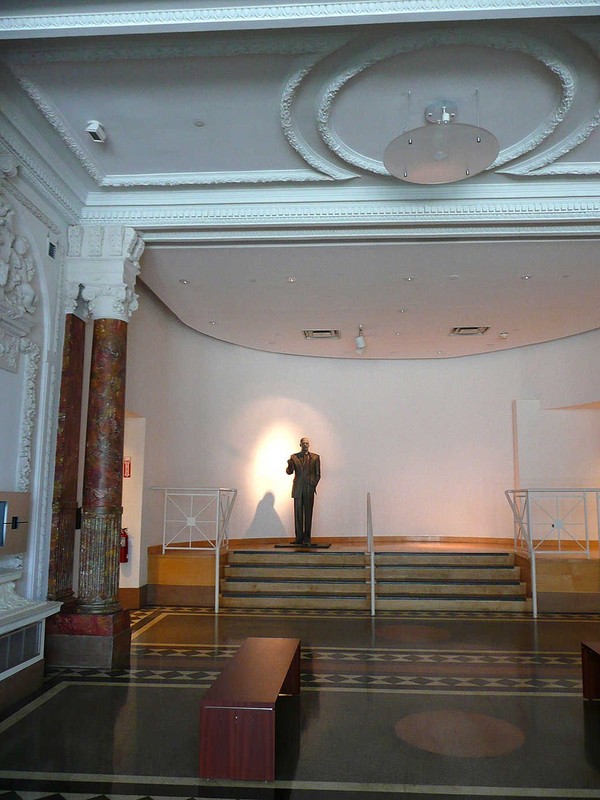 Backstory and Context
The Malcolm X and Dr. Betty Shabazz Memorial and Educational Center is dedicated to memorializing two important Twentieth Century social activists and is committed to continuing their work. Residing in the Washington Heights neighborhood of Manhattan, New York, the building holds not only historical relevance but contains promise for future generations as well. The kiosks and interactive technology that is present, allow for children and adults to relive moments of Malcolm X and Dr. Betty Shabazz's lives, while also focusing on their contributions to the fight for social justice. 
On February 21, 1965, Malcolm X was giving a speech at the Audubon Ballroom on behalf of the organization he co-founded, The Organization of Afro-American Unity. Before he could formally begin his presentation, Malcolm X was shot in the chin, hand, and chest by three gunmen. Assassinated in front of his pregnant wife and children, who only sat a few feet away, Malcolm X had finally been claimed as a victim of the revolution. After his murder, the Audubon Ballroom fell into decay and there was a discussion of demolition. However, with the help of a local university, the Shabazz family was able to negotiate it's salvation. 
By constructing a deal with Columbia University, the late activists' family was able to secure the last place in which Malcolm was seen alive, and utilize it for the same purposes he fought for during his time on Earth. Malcolm X's wife, Dr. Betty Shabazz, was the mastermind behind the construction of the center. She insisted that this building not only reflect her husband's life, but also that it highlight the ongoing struggle for social equality and justice. Although she would not see the building to it's completion, Dr. Shabazz's influence is felt throughout the memorial. Dr. Betty Shabazz passed away in June of 1997. 
The Malcolm X and Dr. Betty Shabazz Memorial and Education Center was opened on May 19, 2005, which happened to be on the anniversary of Malcolm X's 80th birthday. Upon entering the center, visitors are greeted with a bronze, six foot, life like statue of Malcolm. It is also decorated with a sixty-three foot mural, designed by artist Daniel Galvez. The site also has advanced technology that includes interactive kiosks that guests can access to virtually step into the past. Developed in correlation with Columbia University's Digital Knowledge Ventures, the Malcolm X and Dr. Shabazz Memorial and Educational Center provides guests the ability to browse photographs, archival footage, documents, interviews with family and friends, historic scenes of Harlem, and postcards that Malcolm sent home to his friends. Visitors have access to almost two hours' worth of short videos, never before seen photos, interviews with scholars, as well as interpretive features that can be understood by any age. The interactive features include timelines of Malcolm and Betty's lives, maps following his activities in Harlem, and commentary from Malcolm's beloved friend, Ossie Davis. These multimedia exhibits invite children and adults alike to finally experience the contributions and life works of two important historical figures. 
Being that the Malcolm X and Dr. Betty Shabazz Center is the only memorial dedicated solely to Malcolm X as a historical figure, makes it that much more impactful. Malcolm X and Betty Shabazz's daughter, Ilyasah Shabazz, is optimistic that by visiting this collection based upon her parents' histories, it will continue to enlighten guests on the truths of their lives, instead of the misconceptions that she claims are presented throughout numerous publications. She hopes that the center will spark a new found interest within the younger generation that will encourage them to continue the fight for human rights and social justice internationally. To get more information, or to read Ilyasah's personal description of the Malcolm X and Dr. Betty Shabazz Memorial and Educational Center, visit the links below. 
Sources
Flynn, Katherine. "Discover Malcolm X's Legacy at Harlem's Shabazz Center." Saving Places, National Trust for Historic Preservation, 17 Aug. 2017, savingplaces.org/stories/discover-malcolm-x-legacy-harlem-shabazz-center#.WtJcPi-ZPR1. 
"The Malcolm X & Dr. Betty Shabazz Memorial and Educational Center." NYC-ARTS, 22 Sept. 2014, www.nyc-arts.org/organizations/114834/the-malcolm-x-dr-betty-shabazz-memorial-and-educational-center.
Image Sources
https://en.wikipedia.org/wiki/Audubon_Ballroom#/media/File:2014_Audubon_Ballroom_and_Lasker_Biomedical_Research_Building.jpg

Additional Information