Allegany Museum
Introduction
Covering the area's history from the Ice Age to the Industrial Age, Cumberland's Allegany Museum displays all areas of historic interest. Rich in native and colonial history, the Allegany region has deep ties to the nation's birth. Cumberland was one of America's first transportation hubs. The C&O Canal and Railroads figure prominently in the region's history. Many industrial enterprises called Cumberland and the Allegany area home. Exhibits include Pre-History and First Residents, George Washington, Transportation and American Expansion, Civil War and The Industrial Revolution, the Thrasher Carriage Collection, and Art and Design.
Images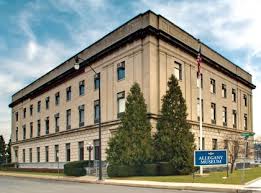 Cumberland's connection to George Washington is detailed in one of the Allegany Museum's exhibitions.
Backstory and Context
Focusing on the counties of Allegany and Garret in Maryland, Mineral in West Virginia, and Bedford and Somerset in Pennsylvania, the Allegany Museum displays the region's rich history. The artifacts stored in the museum tell about a region whose history ranges from Native American, through the Colonial / Revolutionary era to the Industrial Revolution / Modern world. Allegany's contributions toward the culture during each era, and each era's influences about the region are on display. America's frontier, westward expansion, Civil War, and Industrial development are prominent to the region's growth.
The Museum occasionally displays special exhibits; one example was an exhibit on the Saint Patrick's Day Flood of 1937. Survivor accounts, film, and artifacts detailed the story. The Museum also provides teaching materials for classroom use. Archaeological research is also supported by the Museum; the Museum and local residents are excavating a 19th century farm property that sets along the Potomac River. Researchers are examining settlement at the site through pre-history.1 Museum artifacts tell of the region's industrial past, a past that included a once thriving brewing industry, glass works, and tire production. Cumberland was on the nation's first federally funded highway, one of its early canals, and an important railroad center.2
Located in the former Federal Court House Building, renovated to accommodate the museum's needs; the museum is part of Cumberland's Heritage Association. A Ballroom now occupies the space that housed the building's courtroom. The Association includes the C&O Canal National Park, the Gilchrest Museum, the Emmanuel Episcopal Church, the Gordon-Roberts House, and the Western Maryland Railroad Station.3 The Museum also operates the Thrasher Carriage Collection and does not depend on governmental support for daily operations.4
Sources
1. "Archaeology and History at Mexico Farms", Allegany Museum, alleganymuseum.org, 2015, accessed April 3, 2015, http://alleganymuseummd.org/?page_id=41 2. "Allegany Museum", The Mountain Side of Maryland, 2015, accessed April 3, 2015, https://www.mdmountainside.com/attraction/allegany_museum 3. "A Jewel In The Mountains of Maryland", Allegany Museum, alleganymuseum.org, 2015, accessed April 3, 2015, http://alleganymuseummd.org/?page_id=37 4. "The Friends of the Museum Campaign", Allegany Museum, alleganymuseum.org, 2015, accessed April 3, 2015, http://alleganymuseummd.org/?page_id=17
Additional Information