Allegany County Academy
Introduction
In 1798, Allegany County, Maryland moved to establish its first public school. Originally named the "Visitors of Allegany County School", the school was eventually named the Allegany Academy. Remaining open for more than 100 years, the school operated in two locations. Though the academy closed in 1929, its final location became the home of the Cumberland Free Public Library in 1934. It is now the Washington Street Library, a branch of the Allegany County Library System.
Images
Allegany County Academy, early 1900s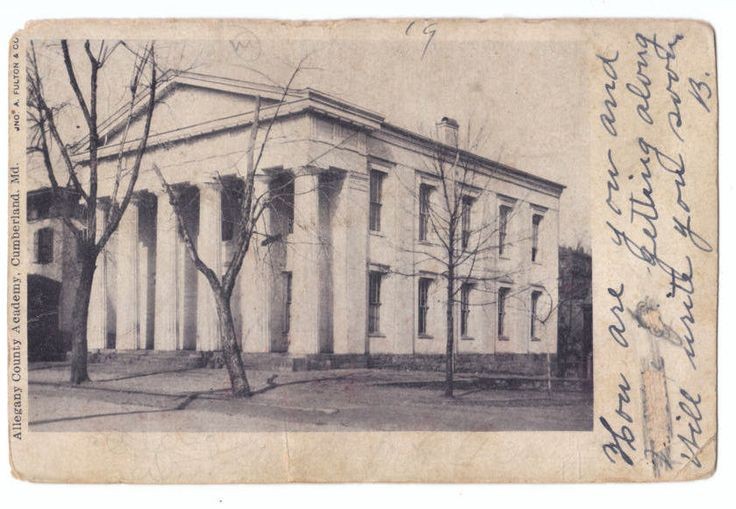 Washington Street Library (Allegany County Academy), early 2000s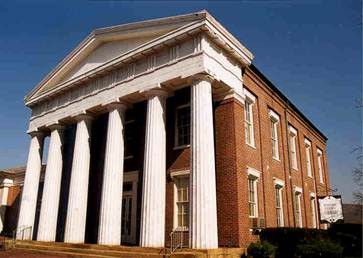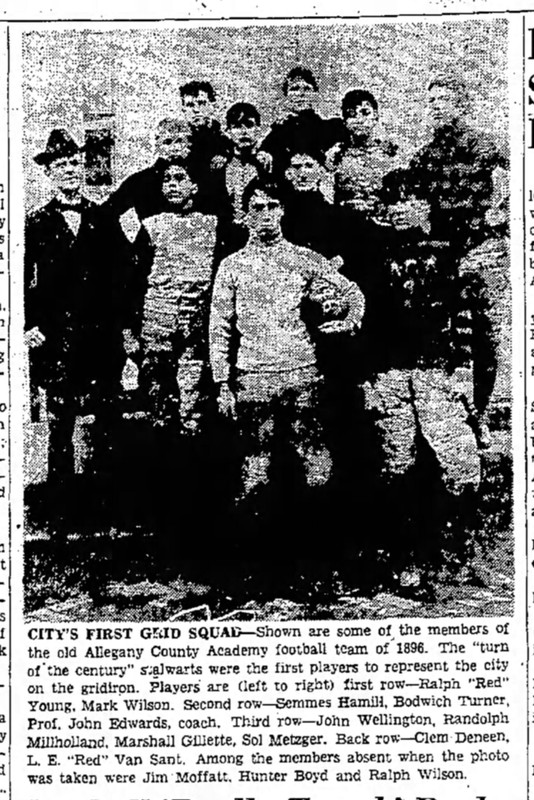 Allegany County Academy Football Team 1896 including Sol Metzger.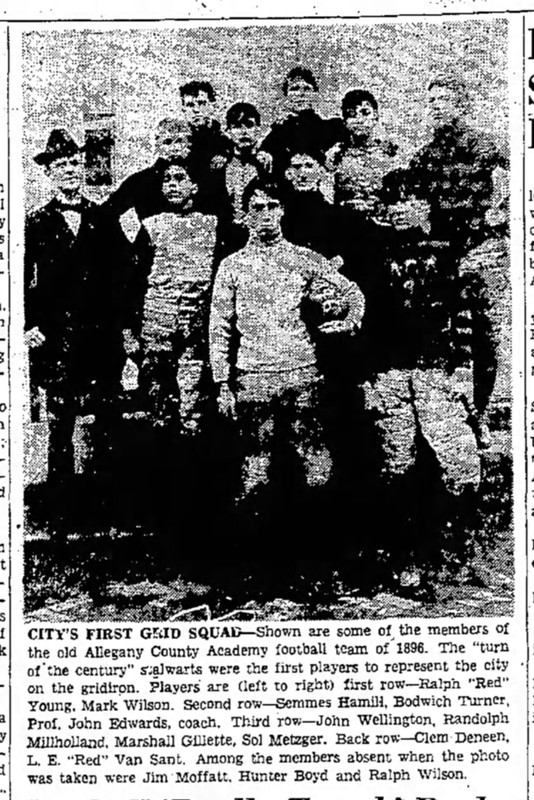 Backstory and Context
   In 1798, Maryland's General Assembly enacted legislation that created western Maryland's first public school.1 The act allowed for the purchase of one acre of land, established a board of visitors to run the school, and provided financial support from the State amounting to $200 annual.2 The school's first building was a single story brick structure located on the current site of The Shrine of Saints Peter and Paul, at 125 Fayette Street.3    In 1849, private funds were raised for the construction of a new building for the academy. At a final cost of $5,000 the new school opened on June 8, 1850. At this time the school calendar ran for eleven months with a one month break in August.4 By the 1890's, the school became a military style academy, students wear uniforms and drilled.5 Allegany County Academy had already established a football team by 1896. One player, Sol Metzger, went on to play for the University of Pennsylvania, and served head coaching stints at West Virginia University, Washington and Jefferson, and the University of Pennsylvania. He later became a sports writer.6
    Allegany County Academy closed in 1929.7 The Allegany County Academy building was leased by the Allegany County Commissioners in 1934 for the purpose of relocating the county's library to the site and opened officially on June 19, 1934.8 Now a branch of the Allegany County Library System, the Washington Street Library received a 1.2 million dollar renovation in 2005.9
   At one time the Allegany County Academy was connected to the Emmanuel Episcopal Church by a steam line tunnel. An escaped slave named Samuel Denison was employed by both the church and the academy. Denison, along with the church's Rector and other abolitionists, escorted runaway slaves through the tunnel system that stretched under the church, the church's rectory, and the Allegany County Academy. Runaways were then escorted to freedom across the Mason-Dixon line into Pennsylvania.10 Maryland was a slave state, so the work was extremely dangerous.
Sources
1. "Public Library Building Marks 100th Anniversary", Cumberland Evening News, June 9, 1950, accessed April 3, 2015, Newspapers.com, p. 11 2. Lowdermilk, Will H., "History of Cumberland, (Maryland)", (Washington: James Anglin, 1878), GooglePlay, accessed April 3, 2015, p. 279 3. Lowdermilk, Will H., "History of Cumberland, (Maryland)", pp. 279-78 4. "Public Library Building Marks 100th Anniversary", Cumberland Evening News, June 9, 1950 5. "Football 'Really' Tough Back In 'Gay 90's' Says Van Sant", Cumberland Evening News, July 26, 1951, accessed April 3, 2015, Newpapers.com, p. 16 6. "Football 'Really' Tough Back In 'Gay 90's' Says Van Sant", Cumberland Evening News, July 26, 1951 7. "Allegany County, Maryland Historical Chronology", Maryland State Archives, October 20, 2014, accessed April 3, 2015, http://msa.maryland.gov/msa/mdmanual/36loc/al/chron/html/alchron.html 8. "Public Library Building Marks 100th Anniversary", Cumberland Evening News, June 9, 1950 9. "Library History", Allegany County Library System, 2015, accessed April 3, 2015, http://www.alleganycountylibrary.info/contentpages.asp?loc=98 10. 7. "Emmanuel and The Underground Railroad", The Emmanuel Parish of The Episcopal Church, accessed April 4, 2015, http://www.emmanuelparishofmd.org/?page_id=171
Additional Information