Barboursville College (Morris Harvey College) 1888-1935
Introduction
Barboursville Seminary College was established in 1888 and was renamed Barboursville College in 1889. The college was located in the former Cabell County Courthouse that was vacated in 1887 when the county seat was moved to Huntington. In its early years, the college offered degrees in education, literature, arts, and sciences. In 1901, the college was renamed Morris Harvey College in recognition of a large donation from a Fayette County entrepreneur. In 1935, leaders of the college determined that they could not compete with nearby Marshall College, so the campus was moved to Charleston. Morris Harvey's College Main building became Barboursville Junior High School while the dormitories served as a state hospital and later became home to the West Virginia Veterans Home. The former county courthouse and school was demolished in the 1990s. In 1978, Charleston's Morris Harvey College became the University of Charleston.
Images
Picture of the Barboursville Campus.

A picture of the building on campus formerly used as the Cabell County Court House.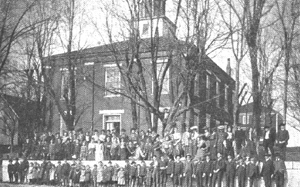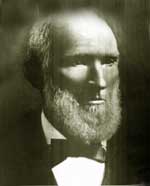 Backstory and Context
The college was first founded in 1888 as the Barboursville Seminary College under the direction of the West Virginia Conference of the Methodist Episcopal Church. However, in 1889 the school passed into the hands of the Southern Methodists of West Virginia who renamed the seminary, Barboursville College. The small college operated for thirty-six years. It offered degrees in education, literature, arts, and sciences. At the beginning of the 20th century, a Mr. Morris Harvey became interested in the small college
Morris Harvey was born in 1821 and became a prominent citizen of the region. He was an extremely wealthy man who made his fortune by buying land in Fayette County which became extremely valuable after the Chesapeake and Ohio Railway ran a line through the heart of the county. Harvey invested in banking and the gold and silver industry. He was also a Confederate veteran, churchman, and sheriff of Fayette County. Later in life, he became a philanthropist donating large sums of money to various institutions, one of which was Barboursville College. In 1901, in honor of his generous gifts, the college was renamed Morris Harvey College.
Harvey donated $100,000 dollars for the campus to be relocated in Charleston, West Virginia. Unfortunately, he died before the move took place. Nonetheless, in 1935, the school moved to downtown Charleston. After several years of steady enrollment, the campus relocated across the Kanawha River from the capitol complex. On December 13th, 1978, the board of trustees official renamed Morris Harvey College to the University of Charleston. Today the school still operates as an accredited university and is known for its outcomes-based model of education and programs in pharmacy, business, and the liberal arts.
Sources
Barboursville, West Virginia - Our History. (n.d.). Retrieved February 19, 2015, from http://www.barboursville.org/history.php Morris Harvey, the Person. (n.d.). Retrieved February 19, 2015, from http://www.morrisharveyhouse.com/history/morris-harvey-the-person.htm Our History. (n.d.). Retrieved February 19, 2015, from http://www.ucwv.edu/AboutUC/History.aspx
Additional Information