Endicott College Museum and Archives
Introduction
Located in Endicott College's Halle Library, this archive and special collection library includes several exhibits about the history of the college. The archive also maintains a growing collection of yearbooks, newspaper clippings, photographs, papers of faculty and administrators, and other items related to the history of Endicott College. From its roots as a women's college located in a former mansion, to a small junior college, to a leading four-year liberal arts college, Endicott College's campus has grown to include over 50 buildings. Some of the campus buildings were once the estates and summer homes for leading Boston families.
Images
The special collections and museum exhibits are located in the Halle Library.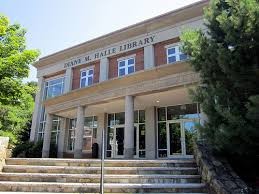 Backstory and Context
Named in honor of John Endicott, the first colonial governor of Massachusetts Bay Colony, this college began as a small two-year college for women under the leadership of
Dr. Eleanor Tupper and with the support of her husband, the Reverend Dr. George O. Bierkoe
. The couple hoped to create an educational institution that could help young women find gainful employment and be more independent, something that was considered radical at that time.
While nearly three thousand undergraduate students currently attend classes at Endicott, the first graduating class included only twenty students and classes were held largely in former mansions that are known today as College Hall, Alhambra, and Reynolds Hall.
Sources
Halle Library, Endicott College website, https://www.endicott.edu/academics/academic-resources-support/halle-library accessed 3/18/18
Additional Information