Fort Hays Historical Museum
Introduction
Fort Hays army was established in 1865 as a headquarters for troops given the task of protecting military roads, guarding the mails, and defending construction crews on the Union Pacific Railway. Fort Hays also served as a major supply depot for other U. S. Army posts in western Kansas. All that remains are the blockhouse, guardhouse, and two officers' quarters, which were moved into the town in 1902 but later returned in 1964 and 1967, respectively. At various times, Fort Hays served as home to the 7th U.S. Cavalry and the Buffalo Soldiers of the 9th and 10th U.S. Cavalry regiments. Lieutenant Colonel George Armstrong Custer commanded the 7th Cavalry and visited, but did not live at Fort Hays. Buffalo Bill Cody also spent time at the fort. Fort Hays was abandoned in 1889. Today the Fort Hays State Historic Site has a visitor's center, the four original buildings, photographs, and the foundations of other buildings. Soldier's clothing, weapons, and personal items are on display. Fort Hays is a museum worth visiting for all ages and the typical visit will be about 45 minutes to an hour.
Images
This photograph shows the 5th Infantry Band parading on the streets of Fort Hays, Kansas, in front of the officer's quarters.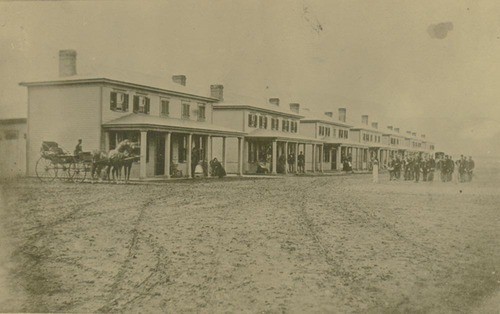 Preserved buildings include this guardhouse which is open to the public.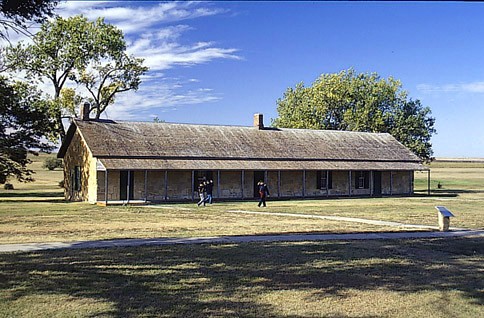 Backstory and Context
Originally, the fort was called Fort Fletcher and was located 14 miles southeast of Hays. Its purpose was to protect the Smoky Hill Trail used by stage and freight wagons of the Butterfield Overland Despatch. However, Cheyenne and Arapaho Indians constantly attacked the trail, forcing the company into bankruptcy and leading to the fort's closure in May 1866.

The new fort, now renamed Fort Hays, was built where Big Creek and the North Fork of Big Creek met in November 1866. As mentioned above, soldiers stationed there were to protect railroad workers constructing the Union Pacific Railroad, which roughly followed the Smoky Hill Trail. As the railroad line approached, it was apparent that it was being built five miles to the north. As a result, the fort was once again moved closer. It was moved again 1867 after a flood destroyed most of the fort and killed several soldiers. It was at this point that the fort, in its new location, became a supply depot.
Sources
"Fort Hays." Kansaspedia. Accessed November 14, 2017. http://www.kshs.org/kansapedia/fort-hays/11793.

Pankratz, Richard. "Fort Hays." National Park Service - National Register of Historic Places Nomination Form. January 25, 1971. https://npgallery.nps.gov/GetAsset/3652d277-fc6a-4292-a3f5-31bb79599bb2.
Additional Information