Plimoth Plantation
Introduction
Located on the shore of Cape Cod Bay is Plimoth Plantation, an interactive outdoor museum that tells the history of the Pilgrims and their settlement of Plymouth Colony. In addition to the permanent exhibits about English and Native cultures, the museum features the Mayflower II, a full scale representation of the original Mayflower ship; the English Village, featuring actors as 17th century residents as well as museum guides; the Wampanoag Homesite; the Hornblower Visitor Center; the Craft Center; the Maxwell & Nye Barns; and the Plimoth Grist Mill. The Plimoth Plantation also has programs for schools, kids, adults, families, and scouts that feature hands on workshops, overnight programs, and outreach programs.
Images
Plimoth Plantation's Old English Village (Courtesy of Destination Plymouth County)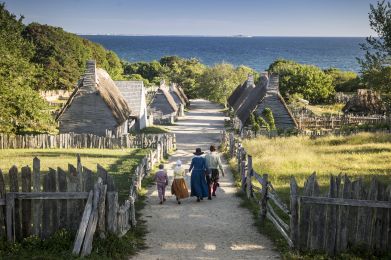 Plimoth Grist Mill (Courtesy of Destination Plymouth County)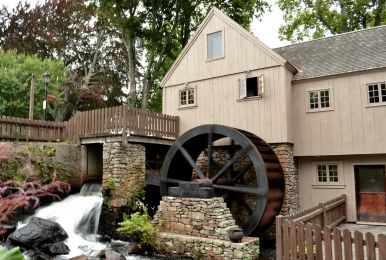 Backstory and Context
The "English Village is a re-creation of the small farming and maritime community built by the Pilgrims* along the shore of Plymouth Harbor... Here, you will find modest timber-framed houses furnished with reproductions of the types of objects that the Pilgrims owned, aromatic kitchen gardens, and heritage breeds livestock" ("17th Century Village"). The Mayflower II ship features food, clothing, furniture, and maritime tools.
Nestled along the Eel River, the Wampanoag homesite visitors will "discover how the 17th-century Wampanoag would have lived along the coast during the growing season; planting their crops, fishing and hunting, gathering wild herbs and berries for food, and reeds for making mats and baskets. You'll see different kinds of homes including a mat-covered wetu, the Wampanoag word for house, and a bark-covered long house or nush wetu, meaning a house with three fire pits inside. Food is cooked over an open fire using only the ingredients that were available in the 1600s" ("Wampanoag").
The craft center provides "guests with a rare glimpse into the historic crafts and technologies that allow the Museum to so vividly re-create the look and feel of the 17th century. Using tools, materials and craft techniques of the 1600s, Native artisans make stone, wood and sinew tools, porcupine headdresses and hand-coiled clay pots. Other artisans practice historic English trades, making reproductions of the objects that 17th-century colonists imported from England" ("Craft Center").
The Plimoth Grist Mill is a replica of the 1636 water powered mill built by the Pilgrims. The reproduction was built in 1970 and makes fresh corn meal.
Sources
http://www.plimoth.org/about-us http://www.plimoth.org/what-see-do/mayflower-ii http://www.plimoth.org/what-see-do/17th-century-english-village http://www.plimoth.org/what-see-do/craft-center http://www.plimoth.org/mill
Additional Information