Cibola National Forest and National Grasslands
Introduction
The Cibola National Forest and National Grasslands stretch across three states in the southwest: Oklahoma, Texas and New Mexico. The elevation in this region ranges from 2,700 feet to 11,300 feet. The national forest consists of four forest areas: Sandia Mt., Manzano Mt., Witington, and Apache Kid.
Images
View from the top of Sandia Moutain with Albuquerque in the distance.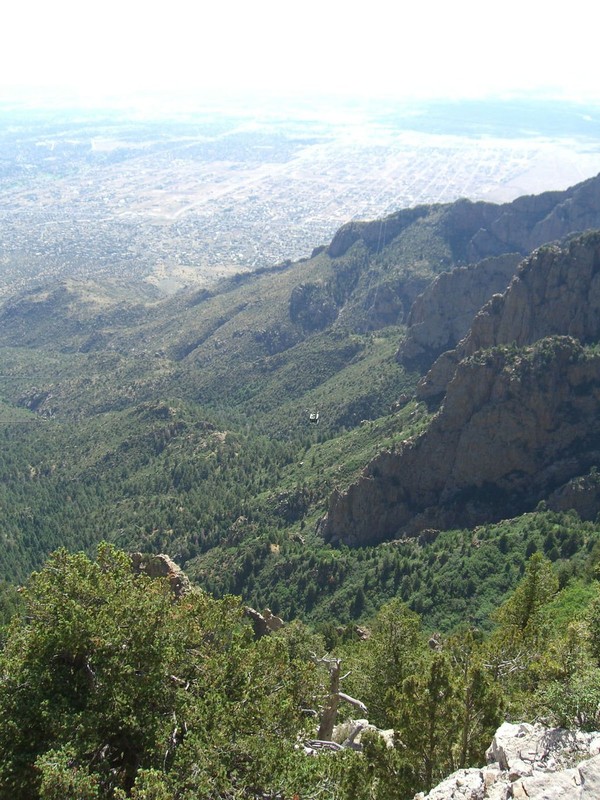 Backstory and Context
The Cibola National Forest is 1,949,637 acres in size, containing four wilderness areas. There are hunting opportunities for deer, elk, antelope and turkey. One can fish in Bluewater and McGaffey Lakes, Skipout, Spring Lake, Dead Indian Lake, Lake Marvin and Lake McClellan. Downhill skiing is available at the Sandia Peak Ski Area. There are also prehistoric ruins, ice caves and lava flows. All developed recreation areas allowing camping except those on the Sandia Ranger District.

Cibola biomes range from Chihuahuan desert to short grass prairie to sub-alpine spruce and fir. Due to the Rio Grande, there is a variety of migrating waterfowl and other birds that follow the river's flyway during the spring and fall. The "sky islands" region hosts more than 200 rare plant and animal species. This ecoregion hosts more bird and mammal species in the Southwest.

These lands have a rich cultural history. The forest is made up of lands first established as Forest Reserves in the 1800s. The heritage resources on the district represent nearly every prominent human evolutionary event known to anthropology. The most famous outlaw known to these lands was the Apache Kid and his supposed grave lies within the Apache Kid Wilderness.
Sources
"About the Forest." United States Forest Service. Accessed February 15, 2015. https://www.fs.usda.gov/main/cibola/about-forest.

Photo: Nightscream, via Wikimedia Commons
Additional Information