Behavior Cemetery
Introduction
Behavior Cemetery was established on Sapelo Island in McIntosh, Georgia in the early 1800s. It is a burial ground for many African Americans, having both marked and unmarked graves located on the southern end of Sapelo Island around a fourth of a mile from the Hog Hammock community. The cemetery reflects many African American burial customs and has been studied intensely by historians. It was added to the National Register of Historic Places on August 22, 1996.
Images
This historical marker provides information about Behavior Cemetery.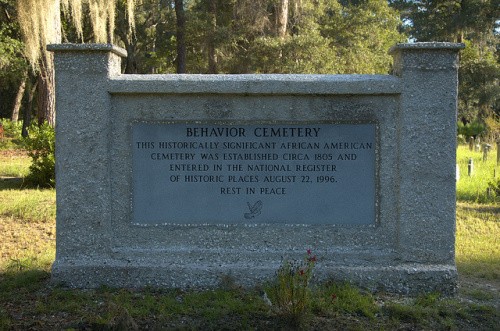 Graves within the cemetery.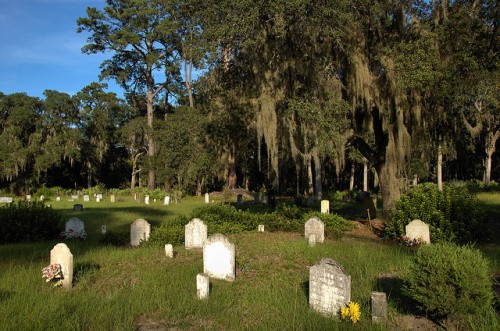 Backstory and Context
It is said by some that Behavior Cemetery was named as such because it was the place where slaves who refused to "behave" were sent until they were ready to listen to their overseer. Not much is known about the cemetery but a lot of research is currently being done and unmarked graves are finally being found and accounted for.

In the cemetery, the graves are unevenly spaced and the markers are crude. The writings on the headstones reflect African American culture and burial traditions.


Sources
"Behavior Cemetery, Circa 1805." Vanishing Coastal Georgia - Photographs by Brian Brown. Accessed September 17, 2012. https://vanishingcoastalgeorgia.com/2012/09/17/behavior-cemetery-circa-1805-sapelo-island.
"Research at Behavior Cemetery, Sapelo Island, Georgia." Research at Behavior Cemetery, Sapelo Island, Georgia. Accessed February 16, 2015. https://core.tdar.org/document/366213/research-at-behavior-cemetery-sapelo-island-georgia.
Thomas, Kenneth H. "Behavior Cemetery." National Parks Service - National Register of Historic Places. https://npgallery.nps.gov/GetAsset/c89c3e63-2ebc-4fa4-9750-f50cf9ad5efe/.
p.p1 {margin: 0.0px 0.0px 0.0px 0.0px; font: 12.0px Helvetica}