Hollywood Wax Museum
Introduction
Opening in 1996, The Hollywood Wax Museum in Branson, Missouri offers an interpretation of modern cultural history through wax sculptures of celebrity figures. It is apart of the Hollywood Wax Museum Entertainment Center, which is owned by those related to businessman Spoony Singh. Singh was well-known for his help in establishing the museum in the first place. The museum is fitted and filled with the most prominent celebrities that have ever lived as well as various horror characters to represent the genre. This allows museum visitors to pose with many of their favorite hollywood celebrities for pictures.
Images
The Hollywood Wax Museum in Branson with the visible King Kong replica and the Mount Rushmore display.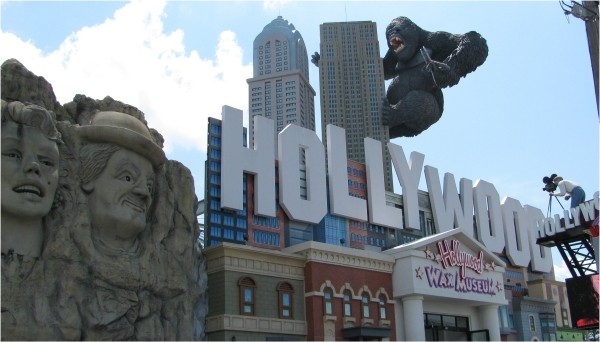 A statue of Johnny Depp as Jack Sparrow in Pirates of the Caribbean movies is one of several wax figures in the museum.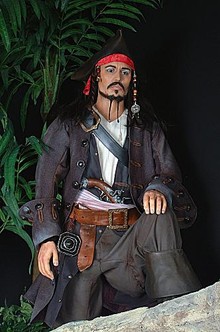 Backstory and Context
The Hollywood Wax Museum is one of the oldest wax figure museums in the United States. It was founded on March 25, 1996 and is claimed to be the most photographed landmark in the entire area. Built on location as apart of the attraction is a 150-foot long Mount Rushmore reconstruction. This museum also features wax figures of many celebrities that are still living and that have been very influential during modern history. The museum staff say they pride themselves on the realism of their displays. 
Businessman "Spooky" Spoony Singh owns the Hollywood Wax Museum Entertainment Center that the museum is apart of. This center opened on February 25, 1965 giving the Hollywood Wax Museum the title of being the longest-running wax museum in the United States. The museum also has a few locations within other states like Hollywood, California; Myrtle Beach, South Carolina; and Pigeon Forge, Tennessee. It was renovated back in 2009 to include a replica of King Kong climbing the main building. This renovation cost $5 million to put into motion.
The museum won the 2011 Branson Beautification Award based on the looks after the renovation. It is also apart of other attractions alongside Hannah's Maze of Mirrors and Shoot for the Star Mini-Golf. Back in 2016, the museum became the location for the 76 Entertainment Community Improvement District. It was scheduled to be apart of the first phase for the redevelopment of Highway 76. In October 2014, the Grand Palace property was purchased and is rumored to be added to the museum, but no plans have been mentioned about this.
Sources
"Hollywood Wax Museum - Branson." Hollywood Wax Museum. Accessed February 15, 2015. http://www.hollywoodwaxmuseum.com/branson.
"Our History." Hollywood Wax Museum. Accessed February 15, 2015. https://www.hollywoodwaxmuseum.com/branson/our_history.htm
Additional Information