Delta Flight Museum
Introduction
Located on the grounds of Hartsfield-Jackson Atlanta International Airport, the Delta Flight Museum explores aviation history, Delta's legacy, and the future of flight. It was founded in 1995 and features numerous aircraft and aviation-related equipment and other items on display. Highlights include the only remaining Waco 125 biplane and the Douglas DC-3, Delta's first 21-passenger aircraft. Visitors will enjoy the many interactive exhibits, especially the flight simulator. The museum also features an archives for those looking to conduct research. It holds information on Delta's family tree, photographs, flight schedules, equipment, and uniforms. Interestingly, the museum was meant only for Delta Employees and invited guests until quite recently. The museum was opened to the public in June of 2014.
Images
The museum opened in 1995 in one of Delta's original hangars. The museum was designated a Historic Aerospace Site in 2011.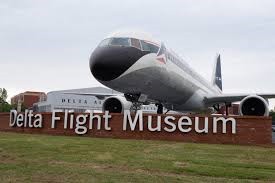 The museum features many aircraft and Delta and aviation-related items on display.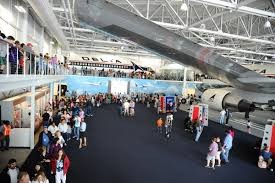 Backstory and Context
The Delta Flight Museum is a corporate aviation museum with two historic aircraft hangars. It sits near the airline's main hub at Hartsville Jackson International Airport, in Atlanta, GA. The vintage Hangars that make up the museum are 1940s era maintenance hangars. Its contents also include various air transportation collectibles and projects.
Hangar 1 houses the Lockheed-1011, which was bought from the Walt Disney Corporation and cut down to a cockpit and first-class cabin. Hanger 2 holds "The Spirit of Delta," the company's very first Boeing 767 jet that was purchased in 1982. Hanger 1 also houses the Monroe Café, which is a full-scale replica of what used to be Delta's Monroe, Louisiana headquarters.
The museum actually spawned from the idea of a group of Delta retirees who wanted to find the first DC-3 plane to carry passengers. When they found it in Puerto Rico and restored it to mint 1940s condition they were awarded the first National Trust for Historic Preservation award. The museum also features an aviation reference library and other temporary exhibits. The museum plans to expand and procure more historical aircrafts in the future.
Sources
"About Us." Delta Flight Museum. Accessed February 15, 2015. http://www.deltamuseum.org/about-us.
"Delta Re-Opens Atlanta Airline Museum." Aero News Network. June 21, 2014. http://www.aero-news.net/index.cfm?do=main.textpost&id=cc520bd9-f2b5-4b63-9c85-aec393ae2d98.
Additional Information