The Jimmy Carter National Historic Site
Introduction
The Jimmy Carter National Historic site includes the childhood home and present home of the 39th President of the United States. The historic site features many of the structures from Carter's boyhood. President Carter and his wife returned there to live permanently in 1981. The site spans 71 acres and became a National Historical Landmark on December 23rd 1987.
Images
The National Historic Site marker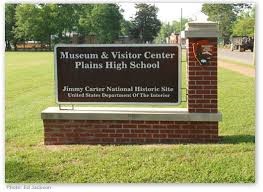 The old Plains High school that's now a museum and visitors center

A sign commemorating what was once President Jimmy Carter's first campaign headquarters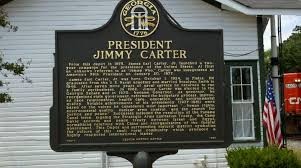 Backstory and Context
The Jimmy Carter National Historic Site is located in the town of Plains, GA. The site includes his childhood home, farm, schools, and the town railroad depot. The building that was formerly known as Plains High School, now functions as the Historical Site's museum and visitors center. President Carter is still alive today and is known to teach Sunday school at his local church. Because President Carter is still living and residing permanently in Plains, the site is essentially under the protection of the United States Secret Service.
The Plains Train Depot, featured on the historical site was in operation from 1888 to 1951 when public transportation to and from Plains ended. During Carter's 1976 election the Plains Train Depot functioned as his first campaign headquarters. It presently is used as a museum which highlights Jimmy Carter's campaign for president via its exhibits. The former Plains High School (Which both Jimmy Carter and his wife Rosalynn attended) also serves as a museum. It includes a class room, principals office, and an auditorium, all designed to look realistically dated, as it would've when Carter attended. These rooms include short videos on Carter and Rosalynn's life told by friends, family and neighbors. There is even an exact replica of Carter's presidential desk, and his 2002 Nobel Peace Prize.
Jimmy Carter's childhood farm where he resided from 1928 to 1941 is also found on the National Historic Site. It has been restored to appear as it would have before the 1930s. The Carter Compound is the only other home featured on the site. The Carter Compound is the current home of the Carter family and is not open to the public. The home used to be referred to by the President as his 'summer white house'. They have resided in the home since 1961.
Sources
http://www.nps.gov/jica/index.htm http://www.nps.gov/nr/travel/presidents/jimmy_carter_nhs.html
Additional Information