The Santa Claus House
Introduction
In 1949 Husband and wife, Con and Nellie Miller arrived in Alaska with their two children and $1.40 in their pocket. Con became a merchant and a fur buyer. The family opened a trading post in 1952 to sell basic necessities to locals in North Pole, Alaska. At Christmas, Con would wear an old red Santa suit and become the first Santa Claus to ever be seen. Twenty years later, Christmas items slowly replaced the canned goods and the store became the Santa Claus House. Now after sixty years, over a million people from all over the world have visited the store.
Images
By 1952, the Millers had decided to build a trading post thirteen miles south of Fairbanks, in an area newly dubbed "North Pole." One day he was recognized as Santa Claus and he was inspired to change the store to the Santa Claus House.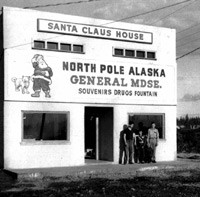 In 1972, the store's emphasis on Christmas delights slowly replaced the aisles of well-stocked canned goods.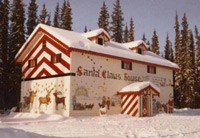 Santa Claus House is one of the top attractions in Interior Alaska, and has welcomed millions of visitors from all over the world.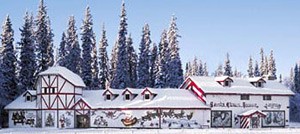 Backstory and Context
Since 1952, the Santa Claus House has put smiles on the faces of millions of visitors from all over the world. At first, the Santa Claus House was built to be a trading post so it offered more basic necessities than it did Christmas treasures. The store was situated between two military installations and right in the middle of the developing North Pole, and also, became a gathering place for area residents. In addition to purchasing their groceries, locals could visit each other at the soda fountain or pick up their daily mail because the Santa Claus House, under the direction of Postmistress Nellie Miller, was a mail contract station and served as North Pole's first Post Office for almost twenty years.1

In 1972 the Santa Claus House changed, but the Miller family's commitments to the community of North Pole did not. At this time, a new storefront was built and the store's emphasis on Christmas slowly replaced the aisles of their canned goods. Con Miller served as the mayor of North Pole for 19 years (the city's longest-serving mayor) while Nellie Miller acted as Marriage Commissioner for the community, marrying thousands of couples inside the Santa Claus House.1

Years later, there was a new wing added and also, a 42 foot tall, 900 pound, three-dimensional Santa Claus statue that greeted the many visitors. The statue was purchased in 1978 and had to be brought to Alaska in four pieces. The statue did not arrive in good condition so it had to be repaired but has been at the Santa Claus House since 1983. "Santa Claus House has continued to spread the spirit of Christmas in recent years, launching their website and opening Christmas in Alaska in Ketchikan, in Southeast Alaska."1

The Santa Claus House has become an Alaska destination and a regular stop for bus tours and independent travelers (there are shuttles from all the Fairbanks hotels). Not only is it Christmas year-round there, but there's an incredible inventory of holiday-themed items in the 9,000 square feet of retail space. It has Alaska-themed ornaments, Made-in-Alaska gifts, jewelry, sculptures, clothing, and toys for children, many of which are Santa Claus House exclusives.2 Also, the Original Santa Letter has been a tradition since the beginning and over two million have been delivered to children all around the world.

Sources
1. "About the Santa Claus House." Santa Clause House. Accessed January 31, 2015. http://www.santaclaushouse.com/about.asp.

2. "Santa Claus House." Alaska.org. Accessed January 31, 2015. http://www.alaska.org/detail/santa-claus-house.
Additional Information