Origin of Great Chicago Fire
Introduction
The Chicago Fire of 1871 is largely considered the worst disaster in Chicago's history. Starting on the night of October 8 and finally ending early on October 10, the fire burned out of control and consumed 17,450 buildings over a 3.5-mile swath, took about 300 lives, and caused $200 million in damages (equal to $4.6 billion dollars in 2018). A recent drought over the summer combined with strong southerly winds and a built infrastructure of mostly wood fueled the fire. The cause of the fire has never been determined, but legend has always placed the blame on Mrs. O'Leary's cow who allegedly kicked over an oil lamp in the barn at 137 DeKoven Street.
Images
1961 sculpture in front of the Fire Academy, by Egon Weiner's , near where the O'Leary cottage once stood and the Great Chicago Fire began.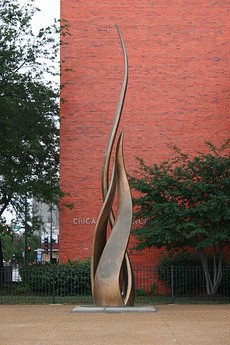 "In Old Chicago" - a 1937 American drama film directed by Henry King. Story about O'Leary's family and the start of the Great Chicago Fire.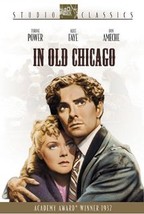 Backstory and Context
From October 8th to 10th, 1871, the Great Chicago Fire burned out of control, quickly spreading far and wide across the city. The scarcity of fire personnel combined with the strong winds sweeping through the dry, wooden environment effectively doomed the city. Eventually, rains came to help put out the fire, but the devastation was massive.
The Chicago Board of Police and Fire Commissioners conducted an official investigation into the cause of the fire, focusing on the O'Leary family and their barn, but the commissioners never determined a definite cause. The traditional account of the origin of the fire is that it was started by a cow kicking over a lantern in the barn owned by Patrick and Catherine O'Leary, but the false story was later attributed to an anti-Irish journalist trying to lay the blame for the fire entirely on the immigrant family. Many other theories have circulated about the start of the fire, but the exact cause of the fire remains unknown to this day.
Sources
http://www.greatchicagofire.org/oleary-legend http://www.cityofchicago.org/dam/city/depts/cfd/general/PDFs/HistoryOfTheChicagoFireDepartment_1.pdf http://files.eric.ed.gov/fulltext/ED257108.pdf http://archives.chicagotribune.com/1958/10/05/page/240/article/who-really-started-the-great-chicago-fire
Additional Information