Appleton-Parker House and Women's City Club of Boston 1913-1992
Introduction
From 1821 until his death in 1861, the influential textile manufacturer and politician Nathan Appleton lived at this residence-a pair of nearly identical three-story brick townhouses. For most of the 20th century, these townhouses served as the headquarters for the Women's City Club, a social and civic organization that promoted charitable causes, mutual aid, and education.
Images
These formally separate townhouses are known as the Appleton-Parker house in recognition of famous residents Nathan Appleton and Daniel Parker. Parker owned a number of ships and a hotel while Appleton was a textile manufacturer.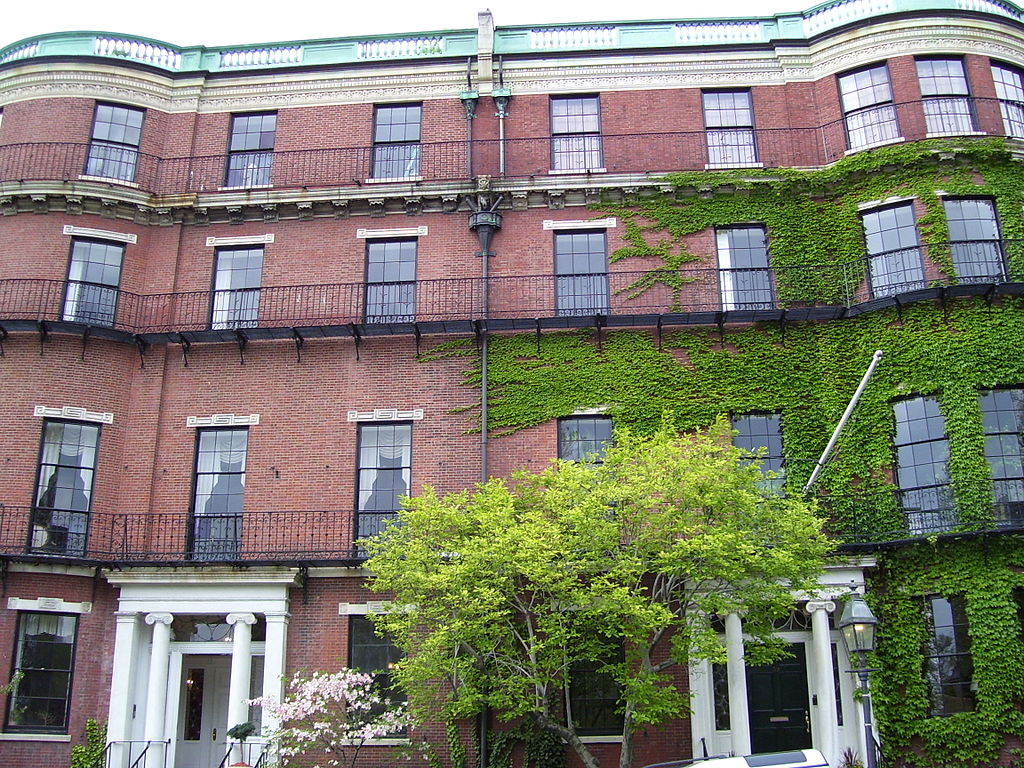 Backstory and Context
Designed by Bostonian Alexander Parris, the Nathan Appleton House (also known as the Appleton-Parker House) is a bowfront, Greek revival/Federal style row house that was built in 1821. A great financial mind and pioneer in New England industrialization, Appleton is best known, along with Francis Cabot Lowell and other business associates, as introducing the power loom to the manufacture of textiles in 1814. Appleton later become one of the founding members of the Boston Manufacturing Company as well as Lowell, a town built around textile mills that Appleton and his business partners owned. He later bought a water power plant in Pawtucket Falls and founded Mimmac Manufacturing and the city of Lowell, Massachusetts.

Born in New Ipswich, New Hampshire to Isaac Appleton and Mary Adams, Nathan Appleton was raised in a Calvinistic church and attended the New Ipswich Academy. He went to Dartmouth College in 1794, but left school the same year to pursue the mercantile life and established a partnership with his brother Samuel from 1800-1809. In addition to the business world, Appleton was also involved in politics, serving in the general court of Massachusetts in 1816, 1821, 1822, 1824, and 1827 and in the United States House of Representatives from 1831-1833 and in 1842.

Appleton married Maria Theresa Gold on April 13, 1806 and they had 5 children. After her death, Appleton remarried in 1839 to Harriot Coffin Sumner and they had 3 children together. Appleton's daughter Fanny Appleton married poet Henry Wadsworth Longfellow in 1843. The ceremony occurred here in this home.

From 1914 until 1992, these townhouses served as the headquarters for the Women's City Club, an organization known for their relief efforts in the wake of a number of fires and other disasters. By 1939, the club expanded and purchased the adjacent townhouse at 39 Beacon Street. The Club also maintained an active role in civic affairs, promoted charitable causes, maintained a library, and held lectures and other educational events. The club had as many as 5,000 members, but like many other women's clubs, membership began to decline during the changing social atmosphere of the 1960s. The club filed for bankruptcy in 1991 and sold these two buildings, which are now private condominiums.
Sources
Women's City Club of Boston. Records of the Women's City Club of Boston, 1913-1992: A Finding Aid, Arthur and Elizabeth Schlesinger Library on the History of Women in America, http://oasis.lib.harvard.edu/oasis/deliver/~sch01313 https://en.wikipedia.org/wiki/Nathan_Appleton https://en.wikipedia.org/wiki/Nathan_Appleton_Residence
Additional Information