Clarence F. Buckingham Memorial Fountain
Introduction
One of the largest fountains in the world, the Clarence F. Buckingham Memorial Fountain is nestled in the center of Chicago's Grant Park. The fountain serves to represent Lake Michigan: the fountain's enormity echoes the lake's massive scope, and the fountain's four sets of sea horses represent the four states that Lake Michigan borders. Every hour on the hour, the fountain spouts a 20-minute water display thanks to a combination of three different pumps, 134 jets, and 820 lights. The hourly showcase includes a center jet that releases a stream of water that reaches 150 feet into the air and, at dusk, is accompanied by light and music.
Images
Inspired by the Latona Basin at Versailles, the structure is composed of four basins clad in elaborately carved granite and pink Georgia marble.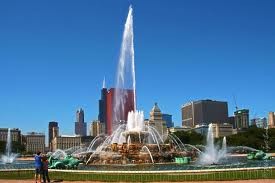 The massive lower basin features four sets of Art Deco style sea horses representing the four states that border Lake Michigan: Illinois, Wisconsin, Indiana and Michigan.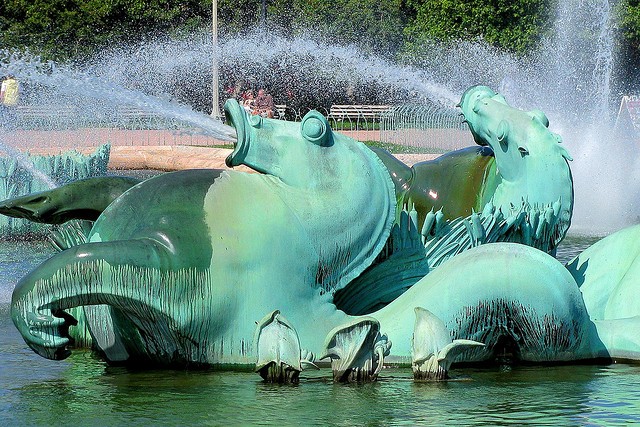 Panoramic view of the Clarence F. Buckingham Memorial Fountain.

Backstory and Context
Designed by architect Edward H. Bennett along with French sculptor Marcel Loyau and engineer Jacques H. Lambert, the Clarence F. Buckingham Memorial Fountain opened to the public in May 1927. Bennett wanted the fountain "to serve as the park's formal focal point without obstructing the views of Lake Michigan" ("History").
Kate Sturges Buckingham donated one million dollars to the city of Chicago for the fountain's construction and dedicated it to the memory of her brother, Clarence F. Buckingham, an avid art collector and Chicago enthusiast who died in 1913.
The fountain's design was in part inspired by the Latona Basin at Versailles and features a series of four granite and marble basins that combine to form a quatrefoil motif. The fountain was mannually operated until 1980 when it went fully computerized. Originally this computer that controlled the fountain was located in Atlanta; in 1994, however it moved to its current location in Arlington Heights, Illinois.
Sources
http://www.chicagoparkdistrict.com/parks/clarence-f-buckingham-memorial-fountain/#8jnz4fu7ua
Additional Information