Custer Memorial Historic Site
Introduction
This monument to General George A. Custer was erected in 1931, a time when most Americans shared the interpretation of Custer as a daring and capable cavalry officer who was a victim of a Native American ambush. Today, most Americans share the assessment of Native American leader Sitting Bull who declared that Custer was "a fool and rode to his death" at the Battle of Little Big Horn. It should also be pointed out that Sitting Bull was not at the battle but was instead leading other Sioux in the area when Custer disobeyed orders, divided his forces, and led an attack against a much larger force after failing to adequately scout the area. The monument was erected at a time when Ohio residents were proud of the association with Custer. In the 1930s, Custer was still revered for acts that have largely been forgotten-- his capable leadership and notable exploits during the Civil War, in particular at Gettysburg. Despite the many errors Custer made leading up to the Battle of the Little Big Horn in 1876, in 1931 he was revered as a martyr for western expansion and would continue to be until the late 20th century. As a result, this monument to honor Custer was enthusiastically supported by the state of Ohio and local residents who celebrated the dedication of the monument near his birthplace in New Rumley, OH. Near the monument is a roadside park and picnic area located beside the monument for locals and visitors to the statue.
Images
A bronze statue stands on the site of General George Armstrong Custer's birthplace.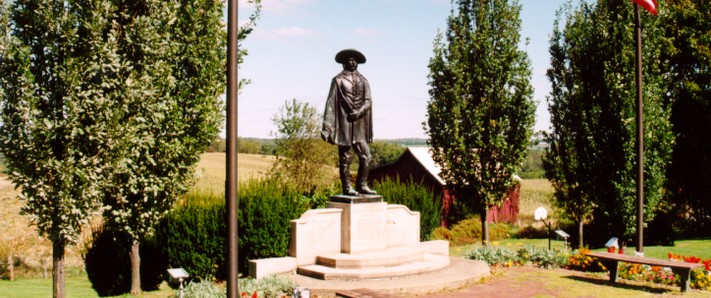 The statue was erected by the Ohio State Archeological and Historical society in 1931.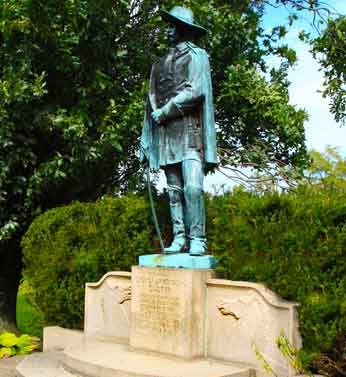 Custer and Bloody Knife (kneeling left), Custer's favorite Indian Scout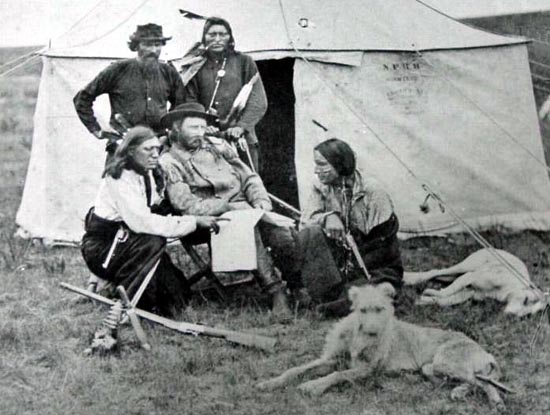 Custer Monument Park and Picnic Area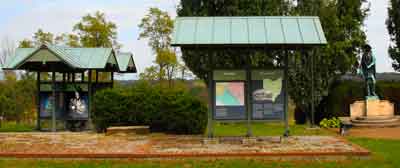 Backstory and Context
In 1813, General Custer's great uncle Jacob Custer established New Rumley, a small community in eastern Ohio that sat along a coach road between Steubenville and New Philadelphia. Custer was born here on December 5, 1839, to Emanuel and Maria Kirkpatrick Custer. He was one of seven children. Two of his brothers, Thomas and Boston, and also a brother-in-law, Lieutenant James Calhoun served and died by his side at the Battle of the Little Big Horn.2
Custer attended Hopedale Normal College, in Hopedale, OH where he and another classmate were known to have carried coal to help pay for their room and board. After graduating in 1856, Custer taught school in Cadiz, Ohio. Afterwards, Custer entered West Point in June 1858 where he and his class graduated one year early because of the outbreak of the American Civil War. During this time, Custer married Elizabeth Bacon on February 9, 1864. Elizabeth followed him to every assignment, even during the latter days of the Civil War.
General Custer had many nicknames. The first one, "Autie," was given by him because when he was little he couldn't pronounce his last name. Custer's first girlfriend called him "bachelor boy" and at West Point, the other cadets called him "Fanny" because of his curly hair. Prior to the battle of Gettysburg, Custer was given the nickname "Boy General" because he was 23 years old and was given the rank of Brigadier General. Custer was given the nickname "Iron Butt" by his men that were under his command because the men thought he drove them too hard. But more famously, perhaps Custer's most famous nickname was given to him by the Indians: "Yellow Hair" because of his long blond hair.
By 1876, tensions had risen between the United States and the Plains Indian Tribes, leading to a battle on June 25th by the Little Bighorn River. This is where Custer's 7th Cavalry met more than three times as many Indian warriors of the Lakota Tribes. Custer was led to believe that there were not this many Indians and decided to split his troop into three groups to attack. All the U.S. troops were killed in what is often referred to as, "Custer's Last Stand."
A bronze statue stands on the site of George Armstrong Custer's birthplace. Only the foundation of the house remains at this roadside park and picnic area. Visitors at the exhibit pavilion may read about Custer's life and the spirited qualities of the young soldier whose "Last Stand" has become a household name. The statue was erected by the Ohio State Archaeological and Historical society in 1931.
Sources
"Custer Monument." Ohio History Connection. Accessed on January 31, 2015. http://www.ohiohistory.org/museums-and-historic-sites/museum--historic-sites-by-name/custer-monument.

"Lt Col George Armstrong Custer." Little Bighorn Battlefield - National Park Service. Accessed on January 31, 2015. https://www.nps.gov/libi/learn/historyculture/lt-col-george-armstrong-custer.htm.
Wert, Jeffry D. "George Custer." History.net. Originally published in the Civil War Times. March/April 2006. http://www.historynet.com/george-custer.
Additional Information