Frederick Douglass School, 1920-1968
Introduction
Skilled brick mason and educator William Freeman was born into slavery on August 1, 1863 near Palestine, Texas. He was able to attend one of the very first schools that were open to African Americans in this section of Texas, and would later attend college and secure a teaching certificate. Freeman worked to promote industrial education as well as literacy and liberal arts. He would eventually become the principal of his former public school and helped reconstruct that school after it was destroyed by fire. Over the course of the school's history, three generations of the Freeman family served as principals at Douglass School, including William Freeman; William's son, Byron Freeman; and Byron's son, Jack Freeman.
Images
Historic marker dedication ceremony, 2010. Frederick Douglass School was built in 1920 and replaced two previous public schools for African Americans that were also at this location. The first of those schools opened in 1875.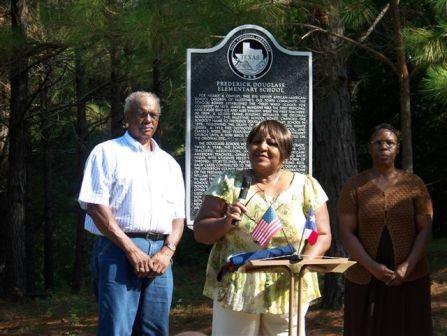 Backstory and Context
William Freeman was born on August 1, 1863 to Charlotte Freeman, a house slave at Jacob Hunter's plantation. After the Civil War, Charlotte and her two-year-old son made the long journey to Palestine, Texas where William was able to attend the First Ward Colored School. William later attended Prairie View, the first public college for African Americans in the area. William studied masonry and also secured a teaching certificate.
1885, Freeman married Mary Frances Carter. They had three sons Wesley, Samuel, and Bryon. In 1899, his wife Mary died and he later married Bobbie McMeans and had an additional four children: Elizabeth, Polly, Eugene, and Lionel. In 1898, he and several other leading members of the African American community convinced the local school board to change the name of school from the "First Ward Colored School" to Frederick Douglas Elementary School, in honor of the famous African American leader.
In 1901, Freeman was appointed as the principal of Douglas Elementary, a position he held until he retired in 1909. In 1912, that school was destroyed by fire but Freeman's knowledge of masonry helped him rebuild the school. In fact, the new school was built of brick in a time when wooden structures were common. The Freeman family also owned their own brick home near this location.
Sources
Staff Reporter. "Historical marker dedication to honor William Freeman today." Palestine Herald-Press. Jul 19, 2014. http://www.palestineherald.com/news/local_news/historical-marker-dedication-to-honor-william-freeman-today/article_94ec7ef5-da00-5c30-97c8-6623ae2847df.html.

"William Freeman." Ancestry.com Accessed February 11, 2015. http://records.ancestry.com/william_freeman_records.ashx?pid=100429532.