Alamo Square District (Painted Ladies)
Introduction
Stretching East to West from Webster Street to Divisadero Street, and North to South from Golden Gate Avenue to Fell Street, the historic Alamo Square District offers a variety of architectural styles, including the famous "Painted Ladies" row of colorful Victorian homes, and streets that are traversed by residents and tourists on the city's cable cars.
Images
The Beautiful Painted Ladies of Alamo Square.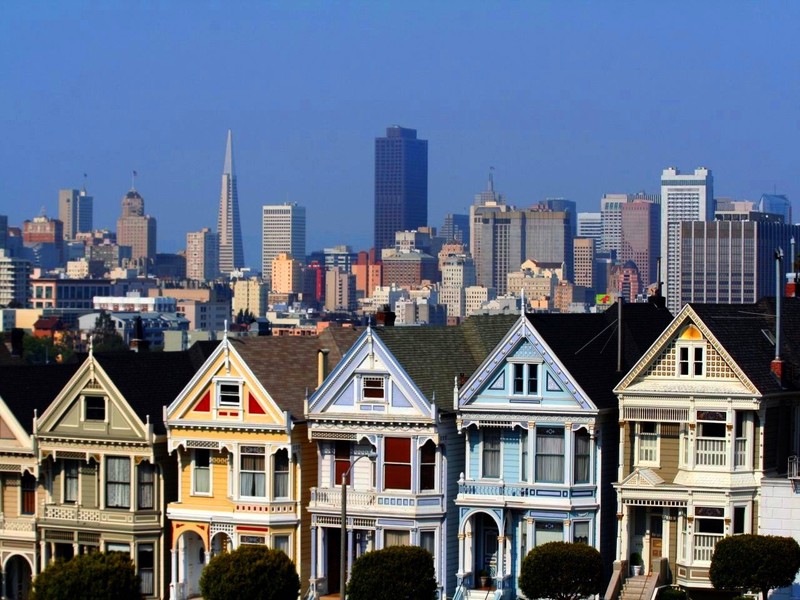 Backstory and Context
Alamo Square is a historic residential district and park that is known for its unique architecture, including the famous "Painted Ladies"- a row of colorful Victorian homes that stand out against the San Francisco skyline. On special occasions, visitors can tour a couple of the homes such as the Westerfeld House or the Archbishop's Mansion. The neighborhood park consists of four blocks, sat on top of a hill overlooking the majority of downtown San Francisco.
The houses lining the streets of Alamo Square are in the classic Victorian style that over the years have been virtually untouched by urban renewal. There is a row of these colored Victorian houses facing the park off Steiner Street, which most people commonly refer to as "The Painted Ladies." These Painted Ladies are seen famously throughout television broadcasts and hit movies. For example, the opening credits to the hit show, "Full House" shows off these beautiful houses, and the blockbuster romantic comedy "The Five Year Engagement" have been shot in this location.

Lined along the perimeter of the park are famous mansions such as William Westerfeld House and the Archbishop's Mansion. William Westerfield House was built in 1889 and is listed on the National Register of Historic Places as a landmark. Westerfield was a German confectionery businessman who arrived in San Francisco in the 1870s. After seeing success with his chain of bakeries he commissioned Henry Geilfuss to create this home for him - a remarkable 28 room mansion with garden and carriage house. The Archbishop's Mansion was the second French Empire building that lined Alamo Square and was home to Patrick Riodan, the second archbishop of the Roman Catholic Diocese of San Francisco.
The neighborhood is typical of other urban areas post-gentrification and is full of many young and upper-middle class families and a diverse older population. The area also boasts a number of small businesses, including a vibrant bar and restaurant scene, catering to both young tech professionals and older, retired crowds. The residents have made an effort to restrict the number of big chain stores in the area, helping local business to thrive. There are also a number of neighborhood groups including the Alamo Square Neighborhood Association and the Haight-Divisadero Neighborhood Merchants Association.
Whether you know San Francisco for its cable cars, the Golden Gate Bridge, or its famous hills, the city would not have its famous skyline without these Painted ladies or mansions.
Sources
"Alamo Square." San Francisco Parks Alliance. Accesed March 19, 2017. https://www.sfparksalliance.org/our-parks/parks/alamo-square.

"Alamo Square Bounded by Golden Gate Avenue, Divisadero, Webster Street and Fell Street." NoeHill. Accessed March 19, 2017. http://noehill.com/sf/landmarks/sf_alamo_square.asp.

Sam, Whiting. "Largest of S.F.'s Painted Ladies up for sale." SF Gate. February 19, 2010. Accessed March 19, 2017. http://www.sfgate.com/realestate/article/Largest-of-S-F-s-Painted-Ladies-up-for-sale-3198728.php.

Additional Information