Surfing Legend Eddie Aikau Memorial
Introduction
Edward Ryon Makuahanai "Eddie" Aikau was born on May 4, 1946 and declared lost at sea on March 17, 1978. Eddie is one of the most well respected names in surfing. He was the first officially hired lifeguard at Waimea Bay on the island of Oahu. He is credited with saving over 200 lives and there are no recorded deaths in Waimea Bay during his time working the beaches there. Eddie became well known as a big-wave surfer and was heralded as a true symbol of Aloha.
Images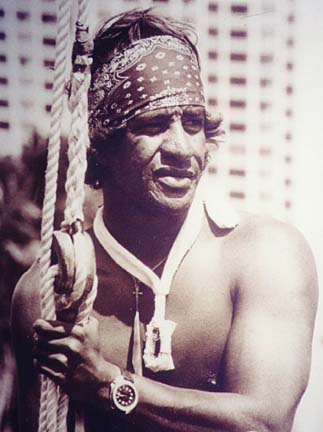 Portrait of Eddie on his longboard.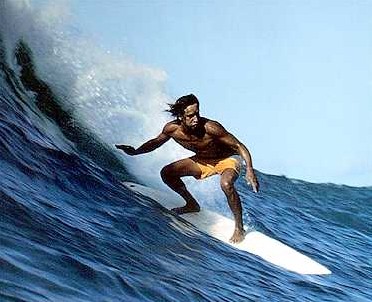 Eddie Aikau Memorial adorned with Hawaiian Lei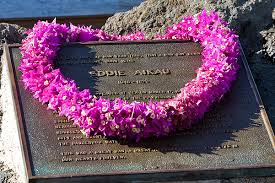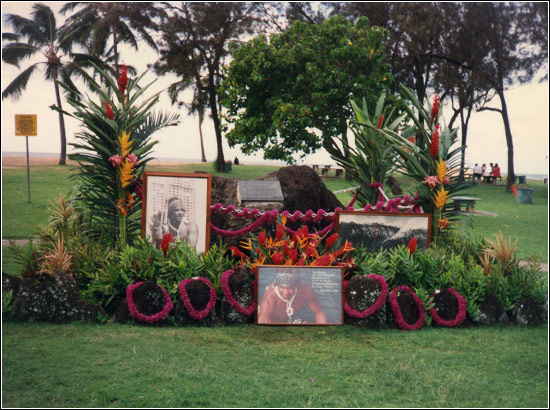 Eddie Aikau in casual Hawaiian attire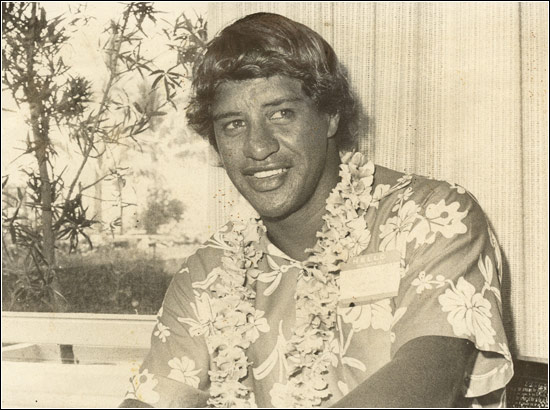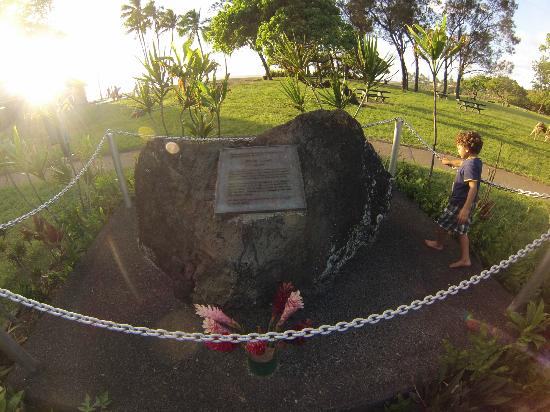 Backstory and Context
Eddie Aikau was one of the most consistent performers during the early years of professional surfing in Hawaii.
Notable achievements include:
- Six-time finalist in the Duke contest between 1966 and 1974
- placed fifth in 1971, fourth in 1972, and third in 1976 in the Smirnoff Surfing competition
- placed third in the 1976 Lancers World Cup
- one of only 10 surfers invited to the 1971 and 1973 Expression Sessions.
- won the 1977 Duke, (beating out future world champions Mark Richards and Wayne Bartholomew)
His first experience in big waves was at Sunset and Waimea Bay in 1967. Photos of him adorned Life Magazine proclaiming him a "big wave star".

In 1968, Eddie persuaded Honolulu county to appoint him as Hawaii's first North Shore lifeguard. He was given the task of covering all beaches between Sunset and Haleiwa, saving hundreds of lives over the next three years in some of the roughest surf found on the planet. Eddie braved surf that often reached twenty feet high or more to make a rescue.

Eddie became heavily involved in perpetuating activities which honored his Hawaiian heritage. In 1978, the Polynesian Voyaging Society sailed the ancient route of the Polynesian migration between the Hawaiian and Tahitian islands (Roughly 2500 miles). 31 years old Eddie Aikau was selected for this voyage as a crew member, scheduled to depart the Hawaiian Islands on March 16, 1978. The canoe developed a leak in one of the hulls and later capsized in stormy weather about twelve miles south of the island of Molokai. In an attempt to get to land to save his crew, Aikau paddled toward the island of Lanai on his surfboard. Hours later a commercial airplane spotted the rest of the crew which was soon rescued by the U.S. Coast Guard. Eddie was missing at sea. Despite exhaustive search efforts, Aikau was never seen again.


In Eddie Aikau's honor, the surf-wear company Quicksilver sponsors the "The Eddie" which is the Quicksilver Big Wave Invitational in Memory of Eddie Aikau at Waimea Bay.

Since its inception the tournament has only been held eight times, due to a precondition that open-ocean swells must reach a prescribed minimum of 20 feet. The contest only invites 28 big-wave riders to participate in two rounds of competition, and a memorial service is held in Eddie's honor prior to the event.

Eddie's legacy left a mark on pop culture in the surfing community and Hawaiian islands. Eddie Aikau was known for going into the ocean when all others feared to do so, prompting the phrase "Eddie Would Go" which can still to this day be seen adorning everything from bumper stickers to surfing equipment.

Sources
http://www.eddieaikaufoundation.org/eddie.htm http://www.findagrave.com/cgi-bin/fg.cgi?page=gr&GRid=12198254 http://encyclopediaofsurfing.com/entries/aikau-eddie
Additional Information